NASA Moon Lander Prototype Explodes in Test Flight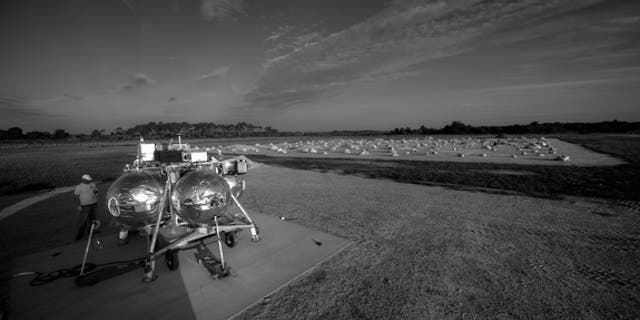 NEWYou can now listen to Fox News articles!
An experimental, "green" NASA lander crashed during its first free-flight test today (Aug. 9), erupting in a ball of flame when it hit the ground.
The unmanned Morpheus lander, which could one day deliver payloads to the moon or other solar system bodies, barely got off the pad around 12:40 p.m. EDT (1640 GMT) at NASA's Kennedy Space Center in Florida before toppling over and exploding.
"During today's free-flight test of the Project Morpheus vehicle, it lifted off the ground and then experienced a hardware component failure, which prevented it from maintaining stable flight," NASA officials said in a statement. "No one was injured, and the resulting fire was extinguished by KSC fire personnel."
"Engineers are looking into the incident, and the agency will release information as it becomes available," the statement added.
The Morpheus lander is powered by liquid oxygen and methane propellants, which are safer and cheaper to operate than traditional fuels and can be stored for longer periods in space, NASA officials say. Morpheus is also testing out automated landing-hazard avoidance technology, which would use lasers to spot dangerous boulders or craters on the surface of another world.
Prior to today's free-flight test, the experimental lander was tested in a series of tethered flights at NASA's Johnson Space Center in Houston, as well as one at KSC last Friday (Aug. 3). The Johnson center oversees the project.
The Morpheus lander could deliver about 1,100 pounds (500 kilograms) of cargo to the moon, NASA officials say.