Moose drowns in Vermont lake after being spooked by onlookers snapping photos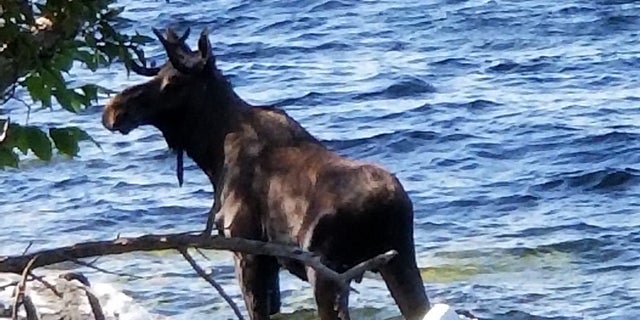 NEWYou can now listen to Fox News articles!
A moose drowned in a Vermont lake over the weekend after people trying to snap a picture of the animal crowded it and forced it into the water, wildlife officials said.
The moose swam across Lake Champlain from New York to South Hero, Vermont, on Saturday, according to the officials. After the animal made it to shore, onlookers started taking pictures of it. Likely spooked and threatened, it went back into the water, where it became exhausted and then drowned.
NORTH CAROLINA WOMAN SAYS DOG DIED PROTECTING FAMILY FROM BEAR THAT BROKE INTO HOME
Fish and Wildlife Warden Robert Currier told The Associated Press he arrived shortly before the moose drowned and was later removed from the lake.
"It was struggling pretty good at that point. We were waiting for a boat to respond to try to assist it, but before the boat arrived, it had drowned," he said. "It was really rough out there, probably 4- to 5-foot swells and high wind."
It all happened near a bike path that's popular with tourists.
Currier said moose typically respond to threats by leaving an area or getting aggressive.
LONG ISLAND POLICE DOG KILLED IN CRASH AFTER CHASE
"I would advise the public to keep their distance from the animal, give it a lot of space and notify the Department of Fish and Wildlife," he said.
The Associated Press contributed to this report.