Michigan river sees 13,000 hawks, other predatory birds within 3-day span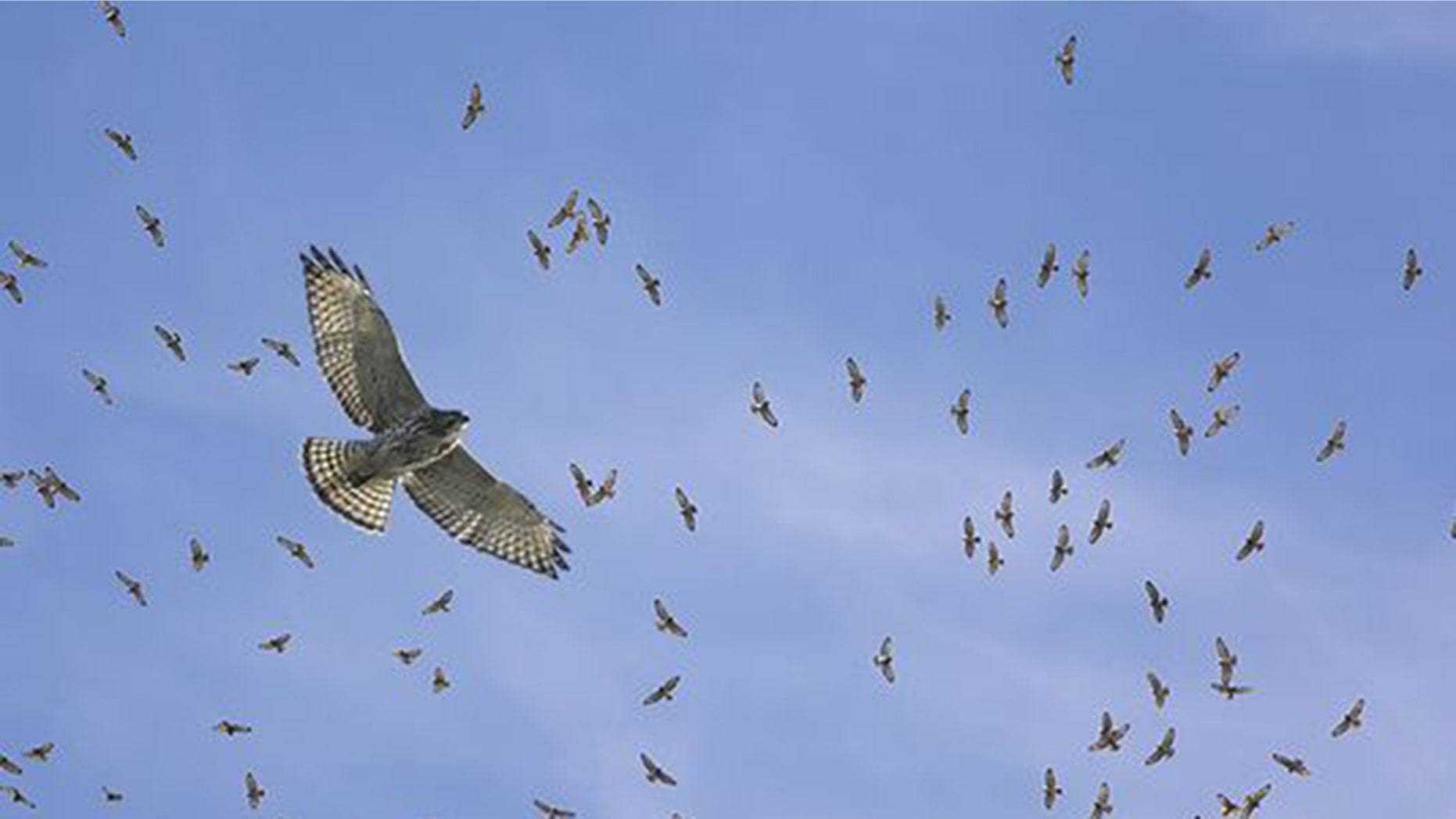 The lower part of the Detroit River in Michigan has seen a recent influx of various birds of prey, such as hawks, eagles and falcons as they prepare to fly south for the winter.
In the past three days alone, a mix of an estimated 13,000 broad-winged hawks and turkey vultures have been spotted over the river, swarming above as photographers and bird lovers alike snap photos of the winged creatures, the Detroit Free Press reported.
VIRGINIA POULTRY PLANT INVESTIGATED AFTER 50 WORKERS SICKENED WITH RARE INFECTIOUS DISEASE
The annual event occurs in autumn, when the "lower Detroit River between Michigan and Ontario becomes a corridor for the passage of migratory birds," according to the Detroit River Hawk Watch group, which monitors and shares information about the event.
Hundreds of thousands of hawks, eagles and other predatory birds begin their journey to "wintering grounds" in the southern part of the county and Mexico, the Detroit River Hawk Watch said in a statement last year.
Jerry Jourdan, an adviser with the Detroit River Hawk Watch, told Fox News some cities in Mexico — such as Vera Cruz —will eventually see "several million birds during their hawk count seasons."
Specifically, "upwards of 250,000 Broad-winged Hawks, Turkey Vultures, Red-tailed Hawks, Sharp-shinned Hawks, and even Golden Eagles will funnel southward from Canada and fly over the hawk watch site during their non-stop migration," the group said, adding that one year, in 1999, more than 540,000 broad-winged hawks were counted in a single day.
ANDEAN FLAMINGOS LAY EGGS FOR FIRST TIME SINCE 2003, CHARITY SAYS
Holiday Beach Migration Observatory across Lake Erie also serves as a prime location to "monitor local population and flight dynamics of migrating hawks," Jourdan said, noting these locations are just a couple of the roughly 300 hawk watch sites across North America which "monitor raptor migration in the spring and fall months."
The concentration of these predatory birds is also a plus for officials with the U.S. Fish and Wildlife Service (USFWS), the Detroit River International Wildlife Refuge (DRIWR) and the International Wildlife Refuge Alliance (IWRA), the Detroit River Hawk Watch said, as they "systematically" count the birds each year during the fall event.
"The whole purpose is to generate a Raptor Population Index (RPI) that allows us to monitor the health of populations down to individual species and perhaps try to determine causation for population increases or decreases," Jourdan explained.
"Tens of thousands of raptors migrate seasonally through the region. Up to 10,000 birds can be seen in a single day," Jane Ferreyra, executive director of Hawk Migration Association of North America, told the newspaper. "You just have to look up!"