Mexico Rattled by 6.5 Quake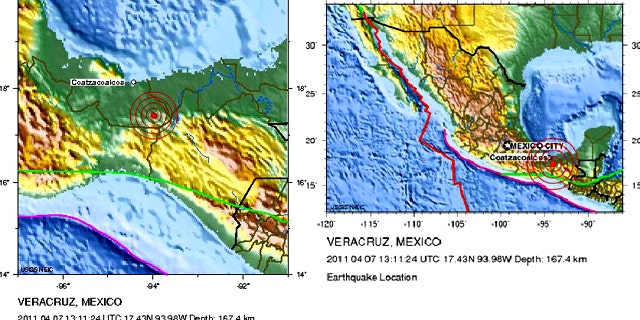 Southern Mexico was shaken by an earthquake with a magnitude of 6.5 Thursday, the U.S. Geological Survey (USGS) said.
The quake was centered about 35 miles from Las Choapas, a city of about 70,000 people in the state of Veracruz, at a depth of 104 miles. A slight tremor from the quake was felt in Mexico City, about 250 miles away.
Buildings swayed for several seconds in the capital city of Mexico, prompting people to flee into the streets, and the temblor was felt strongly in Chiapas, a state bordering Guatemala, the Associated Press reported.
The quake was about 300 miles from Guatemala City, according to a USGS preliminary report. A USGS map of the area shows reports of the temblor spanning the Mexican peninsula.
There were no immediate reports of damage or injuries.
Newswires contributed to this report.