Memorial Day: Where to Go to Honor America's War Dead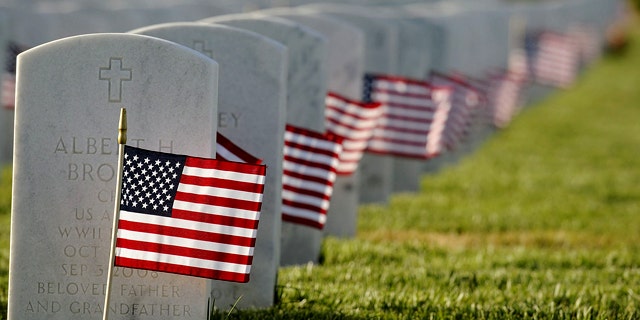 The nation's eyes turn to Arlington National Cemetery on Monday for the annual Memorial Day observance. If you can't make it to D.C., a variety of other local cemeteries offer memorial services closer to home. Here's where to pay your respects.
On Monday, May 31, the annual National Memorial Day Observance to honor America's fallen military service members will take place in the Memorial Amphitheater at Arlington National Cemetery. The National Memorial Day Observance program will begin with a full honor wreath-laying at the Tomb of the Unknowns at 11 a.m. The observance program will commence in Memorial Amphitheater directly following the wreath-laying ceremony.
If you can't make it, take a few minutes to visit the cemeteries site for a virtual stroll. Arlington National has an interactive map, offering an online tour of the cemetery. And while you're thinking about it, why not become a fan of Arlington National Cemetery on Facebook.
Then consider a visit to of these other sites instead.
NATIONAL
Veterans Affairs Guide to National Cemeteries
ALASKA Alabama National Cemetery
ALASKA Fort Richardson National Cemetery
ARIZONA National Memorial Cemetery of Arizona
ARKANSAS Fayetteville National Cemetery
CALIFORNIA Golden Gate National Cemetery
COLORADO Fort Logan National Cemetery
FLORIDA Barrancas National Cemetery
GEORGIA Marietta National Cemetery
HAWAII National Memorial Cemetery of the Pacific
ILLINOIS Abraham Lincoln National Cemetery
INDIANA Crown Hill National Cemetery
KANSAS Fort Leavenworth National Cemetery
KENTUCKY Lexington National Cemetery
LOUISIANA Baton Rouge National Cemetery
MAINE Togus National Cemetery
MARYLAND Annapolis National Cemetery
MASSACHUSETTS Massachusetts National Cemetery
MICHIGAN Fort Custer National Cemetery
MINNESOTA Fort Snelling National Cemetery
MISSISSIPPI Biloxi National Cemetery
MISSOURI Jefferson City National Cemetery
NEBRASKA Fort McPherson National Cemetery
NEW JERSEY Beverly National Cemetery
NEW MEXICO Santa Fe National Cemetery
NEW YORK Woodlawn National Cemetery
NORTH CAROLINA Raleigh National Cemetery
OKLAHOMA Fort Gibson National Cemetery
OREGON Willamette National Cemetery
PENNSYLVANIA Philadelphia National Cemetery
PUERTO RICO Puerto Rico National Cemetery
SOUTH CAROLINA Beaufort National Cemetery
SOUTH DAKOTA Black Hills National Cemetery
TENNESSEE Chattanooga National Cemetery
TEXAS Dallas-Fort Worth National Cemetery
VIRGINIA Alexandria National Cemetery
WASHINGTON Tahoma National Cemetery
WEST VIRGINIA West Virginia National Cemetery
WISCONSIN Wood National Cemetery

INTERNATIONAL
American Battle Monuments Commission Guide