Melted NASA camera's memory card survives fire, captures dramatic fiery last moments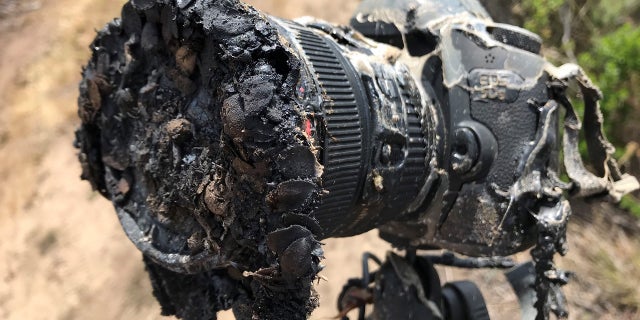 A NASA photographer was able to salvage a camera's memory card and watch the final moments before the device was engulfed in flames while filming a launch at a California air base.
Longtime NASA photographer Bill Ingalls wanted to shoot the launch of Gravity Recovery and Climate Experiment Follow-on, or GRACE-FO, at Vandenberg Air Force Base last Tuesday and set up six cameras around the launch pad, the agency wrote in a blog post Friday.
"I had six remotes, two outside the launch pad safety perimeter and four inside," Ingalls said. "Unfortunately, the launch started a grass fire that toasted one of the cameras outside the perimeter."
The camera that was placed a quarter of a mile away from the launch pad, the farthest location, was engulfed in flames from the brush fire, destroying the device's body in the process. Ingalls returned to the site hoping there was one salvageable piece of the "toasty" camera.
The memory card not only survived the fire, but also captured the final moments of flames approaching the area and slowing melting the lens. NASA released the fiery footage that showed the plastic casing melting over the lens until it stops recording.
The four other cameras closest to the launch pad were undamaged. The other camera placed outside the launch pad was also not impacted by the fire.
The melted NASA camera will mostly likely be displayed at the agency's headquarters in Washington, D.C.