Lion named Mufasa has face and paws hacked off as four other big cats found poisoned in wildlife reserve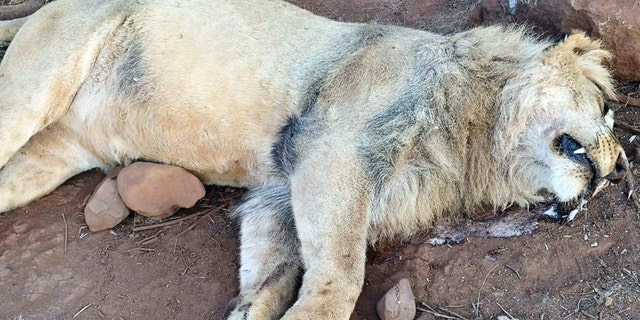 Five lions were found brutally murdered at a wildlife reserve including one named Mufasa whose face and paws had been hacked off.
Poachers broke into Akwaaba Predator Park in Limpopo, South Africa, and began mutilating the male lion named after the character in Disney's The Lion King.
CLICK FOR MORE FROM THE SUN -- WARNING: DISTURBING IMAGES
But they were disturbed by staff and fled the scene on Monday night, leaving Mufasa lying in his own blood while four other lions had been poisoned.
Workers believed poachers were also planning to mutilate all of the big cats and use their body parts for black magic rituals or sell them to a trophy collector.
CLOSE TO 90 ELEPHANTS SLAUGHTERED NEAR AFRICA WILDLIFE SANCTUARY, GROUP, SAYS
Park manager Bronwyn Moss said: "It's heartbreaking. All the lions were hand reared from when they were cubs so it's like losing five children.
"They were close to our hearts. My only hope is that the lions were already dead by the time the poachers started chopping off parts."
MORE THAN A HUNDRED CHARGES FILED AGAINST ALLEGED POACHERS IN 'DEMENTED SOCIAL CLUB'
It's thought they poisoned all five animals with a fast-acting drug, which is yet to be identified, before hacking off Mufasa's front paws and part of his face.