Life on the Moon? New study argued life could have existed on the lunar surface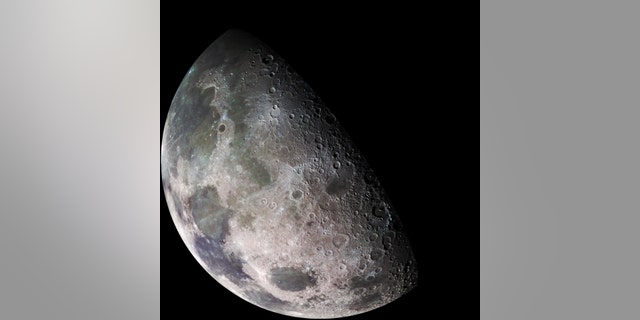 Although life does not presently exist on the Moon, new research suggests that there was a window of time in which it could have supported life.
A paper written by astrobiologists from Washington State University and the University of London theorizes that conditions on the surface of the Moon could have supported "simple life-forms" right after the Moon was formed 4 billion years ago, and during the lunar volcanic activity that occurred 3.5 billion years ago.
Both periods had intense amounts of volatile gases, most notably water vapor, coming from its interior — this, researchers say, could have been supportive of life, assuming the vapor turned to liquid water that got trapped on the lunar surface.
WATER MAY BE ALL OVER THE MOON, GIVING NEW HOPE FOR SUSTAIN LIFE
"If liquid water and a significant atmosphere were present on the early Moon for long periods of time, we think the lunar surface would have been at least transiently habitable," said Dirk Schulze-Makuch, an astrobiologist at Washington State University, in a statement accompanying the paper.
The study was published in the journal Astrobiology by Schulze-Makuch and Ian Crawford, a professor of planetary science and astrobiology at the University of London.
The presence of water on the Moon is nothing new. In 2009 and 2010, a team of scientists discovered hundreds of millions of metric tons of water ice on the Moon.
In February, researchers theorized that water could be more accessible on the Moon than first thought, which could lead to uses for it such as rocket fuel or potentially sustaining life as a lunar outpost.
THE MOON'S INTERIOR COULD CONTAIN LOTS OF WATER, STUDY SHOWS
Schulze-Makuch and Crawford do not make the claim that life did exist on the Moon, but say if it did, it may have started in a similar way to how it happened on Earth.
However, the more likely explanation is that life may have been brought by a meteorite, Schulze-Makuch noted.
"We note that the chances of survival of microorganisms within terrestrial meteorites impacting the Moon would be increased by the presence of even a tenuous lunar atmosphere because this would reduce the impact velocity," the study reads.
The earliest known life forms on Earth are fossilized cyanobacteria, which are approximately 3.8 billion years old, according to a 2017 study.
CAVE DISCOVERED ON THE MOON RAISES HOPE FOR HUMAN COLONIZATION
Since the early solar system saw a great number of large meteorite impacts, it's plausible a simple organism could have moved from the Earth to the Moon during one of these impacts, Schulze-Makuch theorized.
"There could have actually been microbes thriving in water pools on the Moon until the surface became dry and dead," he said.

Follow Chris Ciaccia on Twitter @Chris_Ciaccia