Last of Nepal's dancing bears rescued by animal welfare group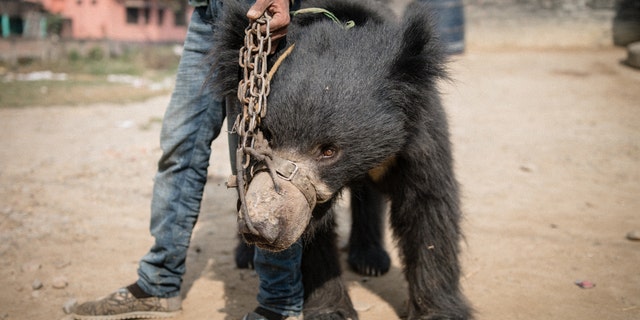 NEWYou can now listen to Fox News articles!
The last two known dancing bears in Nepal were snatched from their owners in a dramatic overnight rescue earlier this week, World Animal Protection announced on Friday.
The Jane Goodall Institute Nepal, with support from World Animal Protection and Nepali police, seized the sloth bears — Rangila, a 19-year-old male, and Sridevi, a 17-year-old female — after police tracked their owners' cellphones to the village of Iharbari.
SCIENTISTS DISCOVER OVER 100 NEW SPECIES, INCLUDING CROCODILE LIZARD, SNAIL-EATING TURTLE
"We are thrilled that the last two known Nepali dancing bears have been rescued from their lifetime of suffering," said Manoj Gautam of Jane Goodall Institute Nepal. "After a year of tracking them, using our own intelligence and in cooperation with local police, our hard effort and dedication has helped to bring an end to this illegal tradition in Nepal."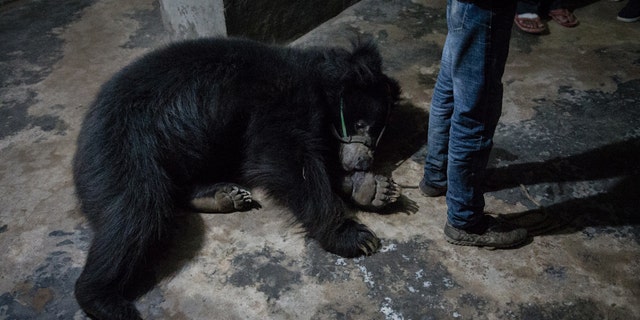 Dancing bears are snatched from their mothers at an early age and subjected to harsh training methods that make them submissive enough to "dance" for crowds of tourists. Rangila and Sridevi's owner had used a burning hot rod to pierce the bears' noses and shoved a rope through them to control the large beasts.
PYTHON ATTACKS MAN'S RUNNING SHOES, VIDEO GOES VIRAL
The bears were cowering, pacing and sucking their paws — signs of an extremely distressed state — when they were rescued, according to World Animal Protection, which has worked for 20 years to end bear dancing and bear baiting worldwide.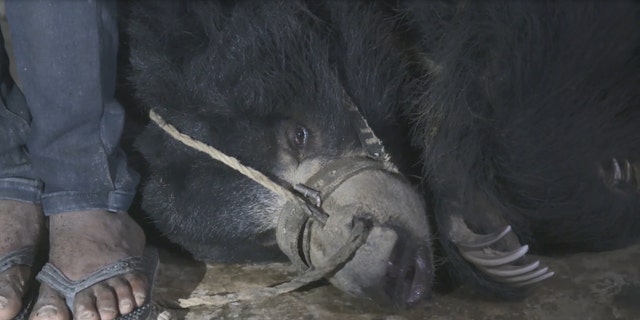 "Rangila and Sridevi have suffered for too long in captivity since they were poached from the wild," said Neil D'Cruze of World Animal Protection. "It's extremely distressing to see animals being stolen from the wild, and the sad reality is there are more wild animals suffering across the world, purely for the entertainment of tourists.
SEA LIONS TERRORIZE SAN FRANCISCO BAY SWIMMERS IN SPATE OF ATTACKS
"I am pleased that for these two sloth bears, at least, a happy ending is finally in sight."
The bears have been placed in the temporary care of Amlekhgunj Forest and Wildlife Reserve.