Jeff Bezos says we need to leave Earth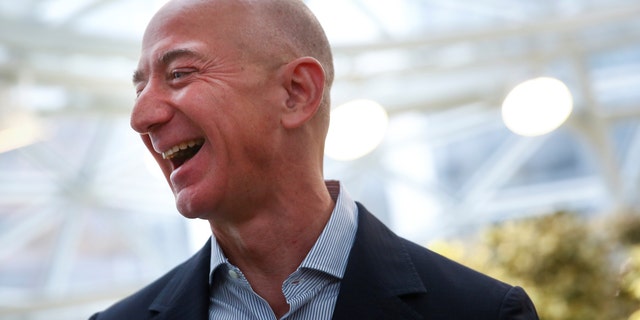 The recently anointed richest person in the world, Amazon founder and CEO Jeff Bezos, says we need to colonize the moon — and time is of the essence.
"We must go back to the moon, and this time to stay," he said.
Speaking at the Space Development Conference in Los Angeles over the weekend, Mr Bezos made the argument that in order to protect Earth and allow the human species to continue growing, we need to move much of our industrial activity to the moon, or even asteroids.
The 54-year-old billionaire said moving heavy industry into solar-powered space outposts is the only way to ensure that our planet can cope with the rising demand for energy and the stresses of a growing population.
"We will have to leave this planet," he said, according to Geek Wire. "We're going to leave it, and it's going to make this planet better. We'll come and go, and the people who want to stay, will stay."
Mr. Bezos believes it will happen in our lifetime because the human race has little alternative.
"The alternative is stasis," he said, adding that without space settlements, societies around the globe "will have to stop growing" due to environmental and other constraints.
"That's not the future that I want for my grandchildren, or my grandchildren's grandchildren."
The US government has stated it wants to pursue sustainable outposts in space and the Trump administration has shown renewed interest in returning to the moon. The Amazon CEO expects US government funding to play a vital role in efforts to build habitats in space but said his rocket company, Blue Origin, would push on with its mission even if it doesn't receive funding help from NASA.
"It won't be done by one company" or by NASA, he said but by "thousands of companies working in concert over many decades".
SpaceX CEO Elon Musk has previously outlined his idea for sending humans to colonize Mars but Mr. Bezos clearly thinks our planet's moon is a better option for an initial outpost. As he pointed out during the conference talk, the moon is more conveniently located and reachable in just a couple of days with the right rocket.
The e-commerce entrepreneur also seems excited by the fact that in the past decade scientists discovered the existence of icy water near the poles that could theoretically be converted into hydrogen and oxygen and used for drinkable water, breathable air and propellants for reusable rockets.
"It's almost like somebody set this up for us," Mr. Bezos said.
If you're a billionaire leader of industry, it's become rather fashionable to use your means to push humanity towards the final frontier.
Jeff Bezos previously said he sells about $1 billion a year in Amazon stock to pursue his plans for space tourism and called his rocket company "the most important work I am doing".
The private space race is rounded out by a third billionaire, Virgin founder Sir Richard Branson, who is currently training to become an astronaut ahead of a space mission in the coming months.
He is attempting to get his space tourism company Virgin Galactic off the ground to help fund his further space ambitions.
"We're talking about months not years — so it's close. There are exciting times ahead," the Virgin boss told BBC Radio on Monday about his personal astronaut mission.
"I'm going for astronaut training, I'm going for fitness training, centrifuge and other training so that my body will hopefully cope well when I go to space."
While Sir Richard believes Mr. Musk is "doing fantastically well" in getting cargo into space and building ever-bigger rockets, the real battle for the commercial king of space travel is between the Virgin boss and Mr. Bezos.
"I think we're both neck and neck as to who will put people into space first. Ultimately we have to do it safely. It's more a race with ourselves to make sure we have the craft that are safe to put people up there," he said.
Earlier this year, Virgin Galactic completed a supersonic test flight of its SpaceShipTwo passenger rocket ship.
It was the first return to the air for the company since a crash in the Californian desert in 2014 in which one pilot was killed and another was injured.
This story originally appeared in news.com.au.