Indonesian police arrest alleged tiger poacher and trader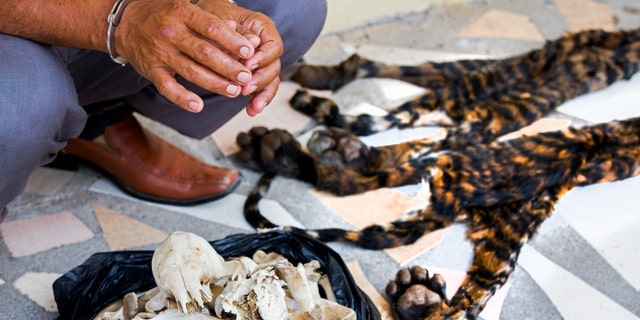 Police in Indonesia have arrested two suspects for alleged poaching and selling of endangered Sumatran tiger parts.
The arrests were made by the Aceh Provincial police with assistance from the Wildlife Conservation Society's Wildlife Crimes Unit. One suspect, who was arrested in Bireun, Sumatra, on March 18, allegedly traded tiger parts after buying them from a supplier in the town of Takengon.
The police operation involved a transaction for two fresh Sumatran tiger cub skins and 8.8 pounds of tiger bones, including one tiger skull, according to a statement released by WCS. After making the arrest, police used the suspect's phone to track the alleged supplier to his hometown of Takengon. The second suspect's family convinced him to turn himself in on March 22.
Related: Rare Sumatran rhino sighted in Indonesian Borneo
Police say that the alleged supplier claimed a connection to national tiger syndicate networks, particularly in Indonesia's Leuser Landscape area.
WCS says that the man had previously been arrested in January 2014 in possession of stuffed tigers, a stuffed clouded leopard, bear fangs, helmeted hornbill casques, and a stuffed Sumatran serow, which is a species of goat-antelope. He had recently been released after serving 12 months in prison and paying a fine of $759, according to the WCS statement.
The suspects could face up to 5 years in prison and a $10,000 fine.
Related: Cute zoo babies
The Sumatran tiger is critically endangered and can only be found in Indonesia. According to the Redlist published by the International Union for Conservation of Nature (IUCN) last year, the Sumatran tiger population has declined to just 300.
However, conservationists received some good news earlier this month when a rare Sumatran rhino was spotted in Indonesian Borneo. The sighting marked humans' first physical contact with the species in the area for over 40 years.