Hitler WWII 'escape' investigated by the CIA, bombshell document reveals
A newly declassified CIA document reveals that the intelligence agency investigated the possibility that Adolf Hitler was alive in South America as late as 1955 — nearly a decade after World War II ended.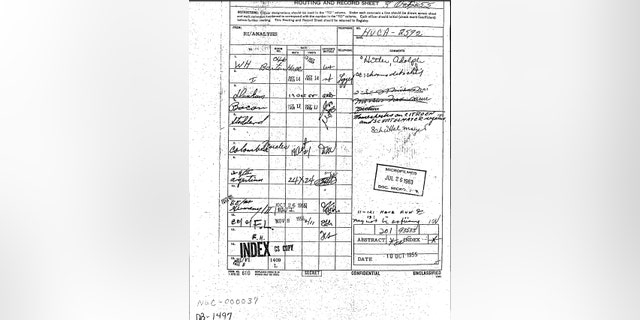 The document, which appears on the CIA's website, highlights a former SS soldier who told spies he had regularly met with Hilter in Colombia. "CITROEN [a CIA source] claimed to have contacted HITLER about once a month in Colombia on his trip from Maracaibo to that country as/an employee of the KNSM (Royal Dutch) Shipping Co. in Maracaibo," the document reads.
It goes on to say that the CIA source indicated to CI MELODY-3's [CIA informant] he had taken a picture with Hitler, but "did not show the photograph."
HITLER MAY HAVE COME CLOSE TO BUILDING AN ATOMIC BOMB, GERMAN TREASURE HUNTER FINDS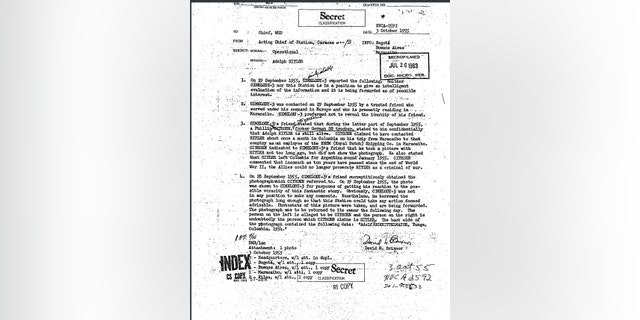 The document, three pages in length, suggests that Hitler may have worked as a shipping company employee, prior to potentially fleeing to Argentina. On the second page is a picture of the informant, Phillip Citroen, with a person he claims is Hitler in the mid-1950s.
"CIMELODY-3's friend states that during the later part of September 1955, a Phillip Citroen, former German SS trooper, stated to him confidentially that Adolph Hitler (sic) is still alive," the documents state.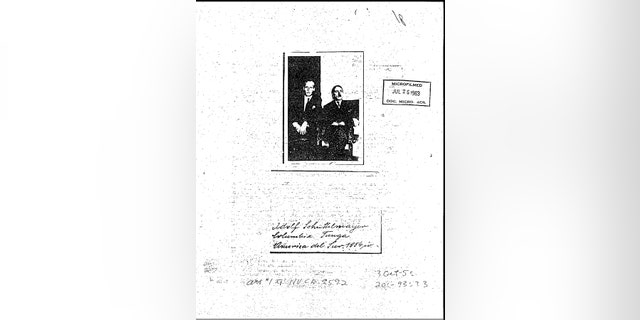 Hitler committed suicide by taking a cyanide capsule and shooting himself. His wife Eva Braun killed herself by swallowing a cyanide pill. His body was later discovered by Soviet soldiers and buried in an unmarked spot. A German court declared Hitler dead, but not until 1956, more than a decade after the war ended.
Despite the findings of the German court, rumors have abounded for years that Hitler survived and fled to South America. The discovery of Holocaust planner Adolf Eichmann and Josef Mengele — the doctor who carried out sick experiments on Auschwitz inmates — in Argentina and Brazil respectively has only added fuel to the rumors, according to a report in news.com.au, which is part of 21st Century Fox.
Eichmann was eventually captured and hanged by Israel for his crimes in 1961, but Mengele managed to avoid capture. He ultimately died, having drowned while swimming off the coast of Brazil in 1979.
JFK'S DIARY REVEALS FASCINATION WITH HITLER, COMPARED TO 'LEGEND'
The file was put together by CIA Caracas bureau chief David Brixnor and wired to Washington in 1955, alongside the aforementioned picture of Citroen and the person who was allegedly Hitler.
Follow Chris Ciaccia on Twitter @Chris_Ciaccia