Historic Mission to International Space Station Confirmed for Private Spacecraft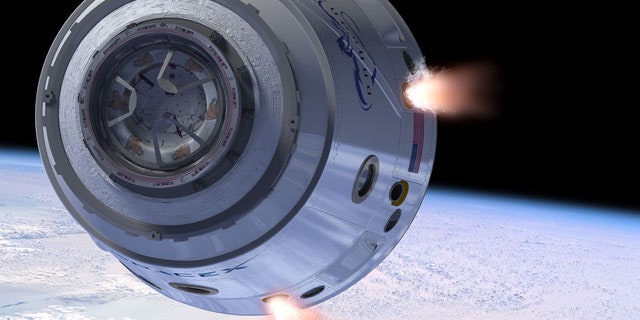 NEWYou can now listen to Fox News articles!
Private spaceflight company Space Exploration (SpaceX) has received the final go-ahead from NASA to send its Dragon cargo craft on a landmark first mission to the International Space Station in early February -- a flight that would make it the first private company to dock with the space station.
NASA announced the news Friday, Dec. 9 -- one year and one day after SpaceX became the first private business to launch a capsule into orbit and return it safely to Earth.
On Feb. 7, 2012, SpaceX will attempt another orbital flight from Cape Canaveral. This time, the unmanned Dragon capsule will fly to the space station and dock with a load of supplies.
A successful docking would be a dramatic validation of NASA's plan to replace the now-retired space shuttle fleet with cheaper, private vehicles.
SpaceX will charge NASA at least $1.6 billion for 12 cargo shipments to the ISS, or $133 million per flight. Upon successful completion of the mission, SpaceX will receive an additional $396 million from the space agency, as detailed in an agreement between NASA and a handful of companies hoping to build next-gen space taxis.
The space shuttle costs exceed $1 billion per flight.
"SpaceX has made incredible progress over the last several months preparing Dragon for its mission to the space station," said William Gerstenmaier, NASA's associate administrator for the Human Exploration and Operations Mission Directorate. "We look forward to a successful mission, which will open up a new era in commercial cargo delivery for this international orbiting laboratory."
NASA has turned to industry to stock the space station now that the space shuttles are retired. The station's Russian, European and Japanese partners provide their own cargo ships.
"SpaceX is on the forefront of demonstrating how a partnership between the government and private industry can lead to new capabilities and provide a large return on investment," said Alan Lindenmoyer, program manager for COTS at NASA's Johnson Space Center in Houston.
"SpaceX is excited to be the first commercial company in history to berth with the International Space Station. This mission will mark a historic milestone in the future of spaceflight," said SpaceX President Gwynne Shotwell. "We appreciate NASA's continued support and their partnership in this process."
The Associated Press contributed to this report.