Historic gem: World's largest flawless diamond up for auction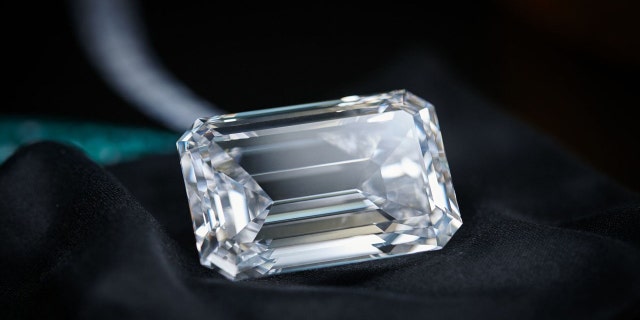 A 163.41-carat D flawless diamond, described as the largest ever put up for auction, was unveiled in Hong Kong on Thursday.
'D' graded diamonds are colorless.
The diamond, unveiled by jewelry specialist de Grisogono, is cut from a 404.2-carat stone named the "4 de Fevereiro" that was discovered in Angola in February 2016. The stone is the 27th largest rough white diamond ever discovered and the largest in Angola, according to de Grisogono.
WORLD'S LARGEST FLAWLESS DIAMOND EVER TO BE AUCTIONED WILL BE UNVEILED THIS WEEK
After analysis in Antwerp, the rough diamond was cut in New York, where a team of 10 specialists turned it into a 163.41-carat emerald-cut stone.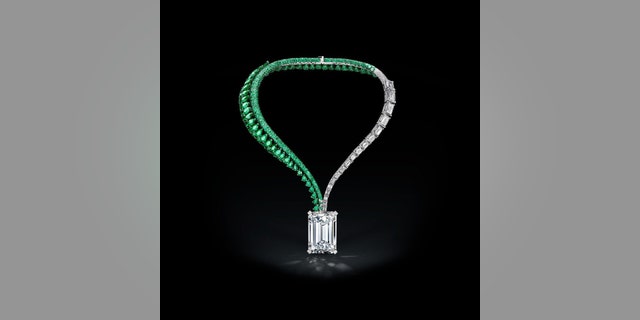 De Grisogono then suspended the stone from a diamond baguette necklace, from which it can be detached. The finished jewelry piece, named The Art of de Grisogono, will now be taken on a world tour, visiting London, Dubai and New York before it goes up for auction in Geneva, Switzerland on Nov. 14.
In 2015 a 'perfect' 100-carat flawless D diamond was sold at Sotheby's New York for $22 million, including the buyer's premium.
SCIENTISTS DISCOVER NEW FORM OF CARBON HARDER THAN DIAMONDS
An uncut diamond the size of a tennis ball sold for $53 million Tuesday. British jeweler Graff Diamonds bought the 1,109-carat stone, the Lesedi La Rona, which was mined in Botswana in 2015.
Follow James Rogers on Twitter @jamesjrogers