Hawaii volcano activity slows, may be entering a pause, USGS says
After months of spewing hot lava into residential neighborhoods and into the sea, it appears that Hawaii's Kilauea volcano may be taking a pause after a slowdown in activity since the weekend.
The U.S. Geological Survey said in a series of updates since Sunday that there was been a "significant reduction" in lava from fissure 8, which fed a channelized lava flow that reached the Pacific Ocean.
"It is common for eruptions to wax and wane or pause completely," the USGS said Tuesday. "A return to high levels of lava discharge or new outbreaks in the area of active fissures could occur at any time."
In aerial photos taken on Tuesday, fissure 8 now only contains a small lava pool below the channel spillway.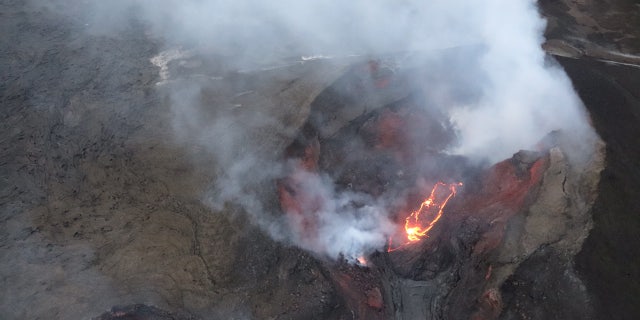 Another photo shows that lava in the fissure 8 has now completely crusted over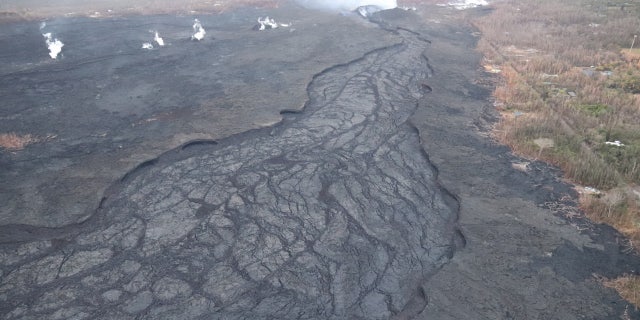 In addition to the low activity in fissure 8 and the lower east rift zone (LERZ), the USGS said that the volcano's summit remains "quiet" after a collapse last Thursday.
ROAD DAMAGE FROM EARTHQUAKES IS LATEST HAWAII VOLCANO PERIL
"Summit and LERZ changes considered together imply that the rate of magma leaving the summit to feed the Lower East Rift Zone eruption has decreased. How long this condition will persist is unknown," the USGS said. "It is possible that outflow will pick up again, resulting in renewed summit area deflation leading to another collapse event and renewed eruption vigor on the LERZ."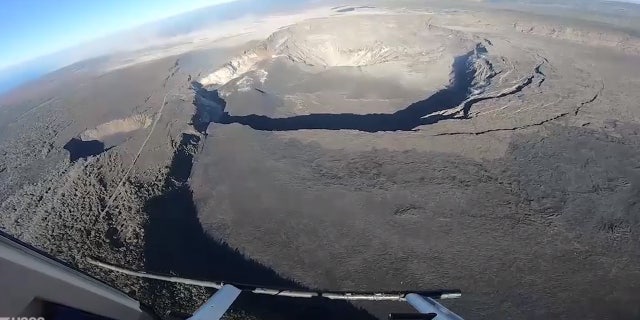 During a conference call on Monday, scientists at the Hawaii Volcano Observatory said while there may be a pause in activity for now, hazards associated with the eruption that began May 3 remain.
HAWAII LAVA BOMB VICTIM HAUNTED BY BLAST: 'I THOUGHT I WAS DYING'
"It could be weeks or months before we feel comfortable calling the eruption and the summit collapse over," HVO scientist-in-charge Tina Neal said, Maui Now reported.
The volcano has destroyed more than 700 homes since lava began pouring into residential neighborhoods from fissures in May, including 500 in just two days.
One man was injured in the weeks after the eruption began, and another 23 people were hurt July 16 when lava entering the ocean exploded onto a tour boat.
Last week, the 20-year-old Illinois tourist who was hit by a lava bomb spoke out for the first time from her hospital bed, saying she thought the vessel was getting dangerously close before an explosion sent debris flying through the roof.
"Everything just went black and you didn't see anything," she told KHON2 from her hospital bed. "You just felt like you were suffocating and I thought I was dying."