Gruesome Pompeii discovery: Ancient city reveals grisly secret
Archaeologists in the ancient city of Pompeii have discovered the undisturbed skeletons of a small group of people who took shelter from the devastating eruption of Mount Vesuvius in 79 A.D.
The Roman city was devastated following the eruption as Pompeii was quickly buried by volcanic ash, killing about 2,000 of the city's residents, according to History.com.
The director of the Pompeii archaeological site, Massimo Osanna, told Italian news agency ANSA on Wednesday the skeletons were still intact, having been left undisturbed, despite looting at the site centuries ago.
POMPEII DISCOVERY REWRITES VESUVIUS ERUPTION'S HISTORY
Osanna called it "a shocking find, but also very important for history."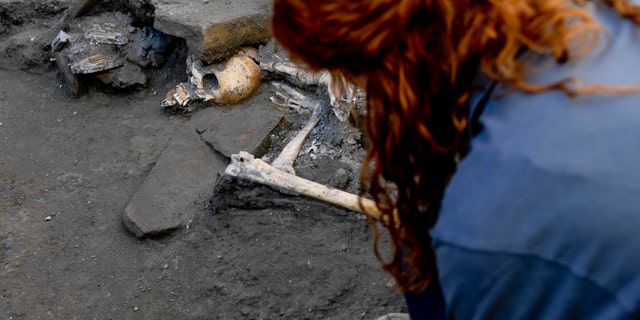 The bones — believed to be those of two women and three children — were discovered inside a house holding a charcoal inscription that historians say dates the deadly eruption to October, two months later than previously thought.
Archaeologists think the people sought safety in a small room but were either crushed when the roof caved in or burned.
DRAMATIC VOLCANO DEATH: HUGE FLYING STONE CRUSHED MAN IN POMPEII, ARCHAEOLOGISTS DISCOVER
One victim's skull, crushed by roof tiles, lies alongside the upper and lower limbs of another individual, according to a Facebook post by officials at the archaeological site.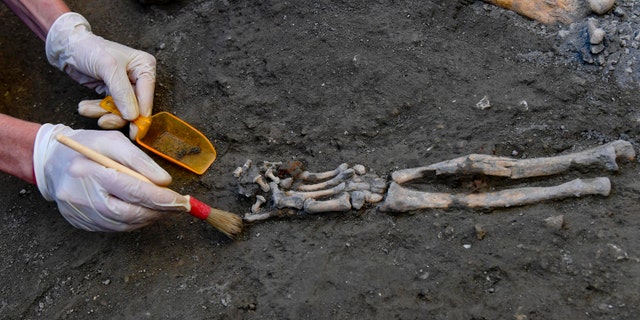 The remains of a ring and other small objects were also found. Archaeologists believe that the room offered shelter from the first stage of the eruption, when lapilli, or rock fragments, rained down on Pompeii. "They were subsequently caught up in one of the pyroclastic flows which overwhelmed the rooms of the house," officials said in the Facebook post. This caused the roof and the upper part of the room's northern wall to collapse, they added.
The site of the ancient city remained untouched for over 1,500 years until its rediscovery in the 18th century. During the 19th century, archaeologists used plaster to take casts from the vacuums that surrounded skeletons found in the compacted layer of ash. Left behind by the decay of organic remains, the vacuums offer an eerie snapshot of the victims' final moments. National Geographic notes the plaster casts' lifelike poses show some victims, for example, crawling, or seated with head in hands.
EXTRAORDINARY POMPEII DISCOVERY: RACEHORSE REMAINS FOUND AMONG ANCIENT CITY'S RUINS
The newly discovered skeletons are just the latest fascinating find at Pompeii.
Earlier this year, images of a man's skeleton, apparently crushed by a rock during the eruption, went viral after their discovery. Archaeologists also recently unearthed the final resting place of an ancient racehorse among the ruins of Pompeii.
A new study recently revealed that when Mount Vesuvius erupted, the intense heat caused victims' skulls to explode and their blood to boil.
Fox News' Chris Ciaccia and The Associated Press contributed to this article. Follow James Rogers on Twitter @jamesjrogers