Gore Feels the Heat, Comes In From the Cold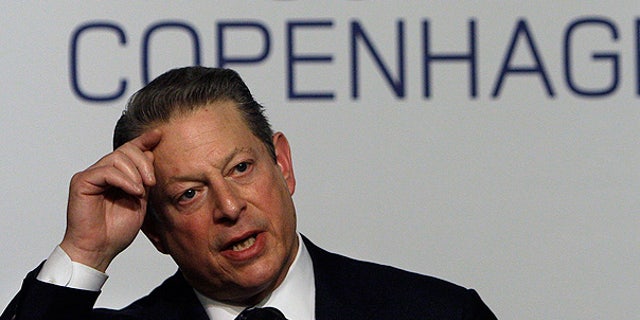 NEWYou can now listen to Fox News articles!
Al Gore has come in from the cold -- writing an Op-Ed for the New York Times just two days after FoxNews.com noted the former vice president's seeming unwillingness to comment on the Climate-gate scandal.
Gore won a Nobel Prize and an Oscar for his film, An Inconvenient Truth,which explored the topic of climate change and argued that man is one of the main causes for it. But in the last three months, as global warming has gone from a scientific certitude to the subject of satire, Gore -- the public face of global warming -- had been silent on the topic.
Despite an attention-grabbing appearance at an Apple shareholders meeting last week and a speech at a private IBM conference in Las Vegas, the politician-turned-Earth-advocate had been uncharacteristically silent on the topic of global warming. Meanwhile, Climate-gate has besmirched the science, scientists and politicians who back the theory of manmade climate change.
Last week, Oklahoma Sen. James Inhofe -- a prominent skeptic of global warming theory and the Republican leader of the Senate's Environment and Public Works Committee -- issued a request for Gore to come testify on global warming. In an interview with FoxNews.com, Inhofe said he wants Gore to appear because "it will be interesting to ask him on what science he based his movie," a film the senator considers "science fiction."
On Sunday, Gore finally made his call, writing an Op-Ed piece for the New York Times, titled "We Can't Wish Away Climate Change," in which he finally addressed the series of flaws and bloopers that have been dogging climate science.
"It is true that the climate panel published a flawed overestimate of the melting rate of debris-covered glaciers in the Himalayas," Gore wrote, also acknowledging that stolen e-mails showed that scientists "may not have adequately followed the requirements of the British freedom of information law."
But the former vice president remained resolute. "The scientific enterprise will never be completely free of mistakes," he wrote, stressing that "what is important is that the overwhelming consensus on global warming remains unchanged."
Gore also said that the snowstorms and freezing weather that have hit the United States this winter are further proof of global warming. Warmer global temperatures increase the rate of evaporation from the oceans, putting significantly more moisture into the atmosphere and causing heavier downfalls, he wrote.
"Just as it's important not to miss the forest for the trees, neither should we miss the climate for the snowstorm," he said.
The majority of Gore's article then proceeded to deal with the political ramifications of inaction, including the failed Copenhagen climate summit and the pros and cons of cap-and-trade legislation. He did not address Senator Inhofe's call for him to appear before Congress.