Giant 'Siberian unicorn' existed much more recently than previously thought, experts say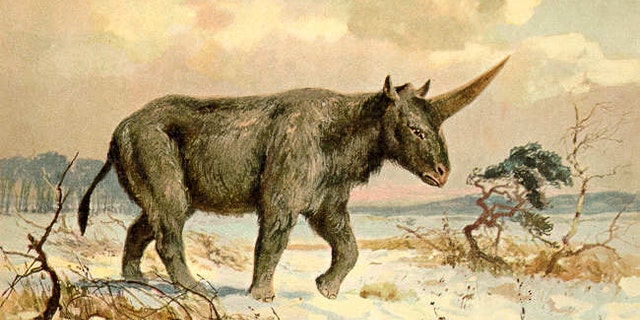 A now-extinct giant 'Siberian unicorn' existed much more recently than previously thought, paleontologists say.
The animal, an elasmotherium Siberian rhinoceros or 'Elasmotherium sibiricum,' was previously thought to be extinct 350,000 years ago. However, new research by experts at Tomsk State University (TSU) in Russia indicates that the "unicorn" may have existed until 29,000 years ago.
This means that the 'unicorn' may have roamed the Earth at the same time as humans – a human fossil found in western Siberia in 2008 was dated to 45,000 years ago.
Related: T. Rex was pregnant, bone test confirms
The researchers cite a well-preserved fossilized skull fragment discovered near Kozhamzhar village, Pavlodar, Kazakhstan as evidence for the rhino's more recent existence. The findings are detailed in the "American Journal of Applied Science."
"Most likely, in the south of Western Siberia it was a refúgium, where this rhino had preserved the longest in comparison with the rest of its range," explained Andrey Shpanski, a paleontologist at TSU, in a press release. "There is another option that it could migrate and dwell for a while on the more southern areas."
Radiocarbon dating was performed on the skull at Queen's University, Belfast, in the U.K. "Most likely, it was a very large male of very large individual age (teeth not preserved)," said Shpanski, in the press release.
Related: Scientists discover cousin of T. Rex in Uzbekistan desert
It is thought that the giant animals were about 6.7 feet tall and 15 feet long.
The rhinos could be found across a vast habitat that spanned from the Don river to the east of modern Kazakhstan, according to experts. Residue from the animal in Kazakhstan reveals that the rhinos had "quite a long existence" in the southeast of the west Siberian plain, TSU says.