Giant lizard in Florida captured months after terrorizing family, evading capture: 'Everybody is relieved'
Months after terrorizing a Florida family with young children and evading capture, an escaped Asian water monitor lizard that was "terrifying to look at" has officially been apprehended, state wildlife officials announced this week.
The lizard — which officials with the Florida Wildlife Conservation Commission (FWC) said measured more than 8 feet in length — was seized Tuesday, ending the animal's nearly 3-month tyranny in a Davie neighborhood.
FLORIDA MAN CAPTURES 'MAMMOTH' 17-FOOT PYTHON, SETS RECORD
The lizard was first spotted by Zachary Lieberman on a horse trail behind his family's home in August. Lieberman, who told Fox News at the time he immediately contacted FWC officials, said the reptile "scratched" at the family's back door.
"I was sitting there playing with the kids when my wife screamed," he recalled. At one point, Lieberman attempted to lure the prehistoric-looking creature into his garage with the hopes of enclosing it inside — but to no avail.
As soon as the lizard "got the hint," it "got up on its hind legs and took off," Lieberman, a father of a 4-year-old girl and 2-year-old boy, said.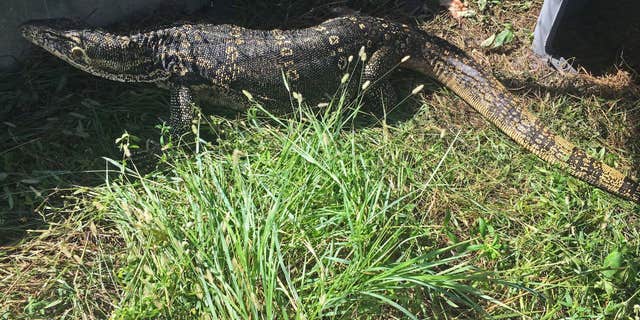 "The kids are scared to get in the pool — and rightfully so with a 'dinosaur' living in the backyard," he continued, adding the reptile has "nasty claws" and is "terrifying to look at."
But the reptile's reign is over. The creature will be returned to its owner, who has been issued a "criminal citation for the escape," the FWC said, though it did not identify the owner.
"Permits are not required to possess water monitor lizards as personal pets, but owners must meet caging requirements. An inspection was completed to ensure the owner has appropriate caging in place for the animal," the wildlife agency continued.
The monitor's owner was able to assist wildlife officials in the capture by providing "tips about the animal's behavior that ultimately helped our biologists capture it," Sarah Funck, FWC's Non-native Fish and Wildlife Program coordinator, said in a statement.
NEW CROCODILE SPECIES DISCOVERED BY RESEARCHERS
"Everybody is relieved," Lieberman told WPLG-News of the capture," adding "everybody let out an exhale, a sigh of relief."
Monitor lizards — which can turn aggressive, wildlife officials told Fox News in August — are not native to Florida. They typically eat birds, fish and other small animals.