'Ghost' in space: NASA's Hubble telescope captures stunning nebula pic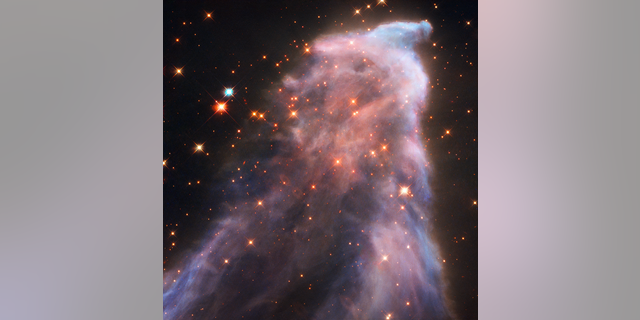 Perfectly timed for Halloween, NASA is showing off a remarkable image of a 'ghost nebula' captured by the Hubble Space Telescope.
"The Ghost of Cassiopeia" is located 550 light-years away in the constellation Cassiopeia the Queen, NASA explains in a statement. The constellation is named after the vain Cassiopeia from Greek mythology and its 'W' shape is said to resemble the queen on her throne.
A light year, which measures distance in space, equals 6 trillion miles.
EERIE SKULL-SHAPED ASTEROID WILL ZOOM PAST EARTH JUST AFTER HALLOWEEN
"The nebula's ethereal glow might remind people of apparitions such as those reported by paranormal investigators," said NASA in the statement. "In reality, it's simply hydrogen that is being bombarded with ultraviolet radiation from the nearby, blue-giant star Gamma Cassiopeiae."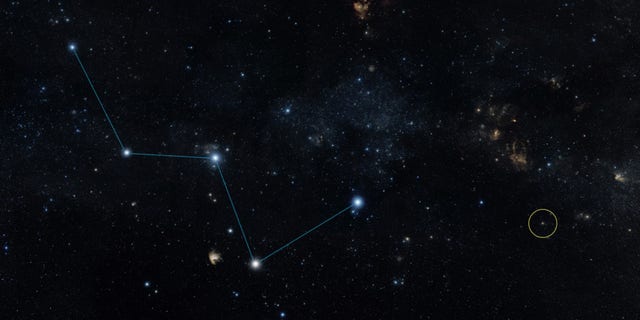 The incredible picture shows hydrogen glowing in red light, while the blue color is light reflecting off of the nebula's dust, according to the space agency. The star Gamma Cassiopeiae unleashes the energy of 34,000 Suns, it adds.
Officially known as IC 63, the Nebula was photographed by Hubble in August 2016.
HUBBLE TELESCOPE SPOTS A 'SPACE INVADER'
"The constellation Cassiopeia is visible every clear night from mid-northern and higher latitudes. Its distinctive 'W' asterism, which forms the queen's throne, is best seen high in the sky on autumn and winter evenings," NASA said in its statement. "Gamma Cassiopeiae, the middle star in the W, is visible to the unaided eye, but a large telescope is needed to see IC 63."
An asterism is a distinctive group of stars.
The Hubble Space Telescope recently returned to normal operations after experiencing problems with its gyroscope. NASA partners with the European Space Agency on the telescope which is managed from NASA's Goddard Space Flight Center in Greenbelt, Maryland.
'MIND-BOGGLING' MONSTER BLACK HOLE AT MILKY WAY'S CENTER SEEN BY SCIENTISTS
The ghost nebula is not the only "spooky" object in space. An asteroid that, in certain light conditions, resembles a human skull, will fly past Earth just after Halloween.
Known as Asteroid 2015 TB145, the space rock is a so-called "dead comet" that has lost most of its ice and gases. Appropriately for its ghoulish appearance, the asteroid first flew past Earth on Halloween 2015, prompting NASA to call it "The Great Pumpkin."
In 2015, the asteroid flew past Earth at a distance of just 300,000 miles, Space.com reports. For comparison, the average distance between Earth and the Moon is 238,855 miles.
PLANETS IN GALAXIES BEYOND MILKY WAY SPOTTED FOR FIRST TIME
First discovered on Oct. 10, 2015 by the University of Hawaii's Pan-STARRS-1 (Panoramic Survey Telescope and Rapid Response System), the "Halloween asteroid" is set to make another flyby in November, researchers say. However, it will be nowhere near as close to our planet this time.
Asteroid 2015 TB145 will zoom past at 105 times the average lunar distance, SINC reports, citing a research study released last year.
Fox News' Zoe Szathmary contributed to this article. Follow James Rogers on Twitter @jamesjrogers