Florida couple spots rare scalloped hammerhead shark: 'It was awesome'
Florida couple Lauren and Brandon Woodley were out for a leisurely boat ride early Monday morning, snapping photos of playful dolphins during the high tide off of Crab Island, near Destin.
But when it began to rain, the duo was forced under the nearby Marler Bridge. It was at that moment that Lauren noticed a fin poking out through the water. At first, the Fort Walton Beach resident thought it was a dolphin, but soon realized it was a shark -- likely an endangered scalloped hammerhead.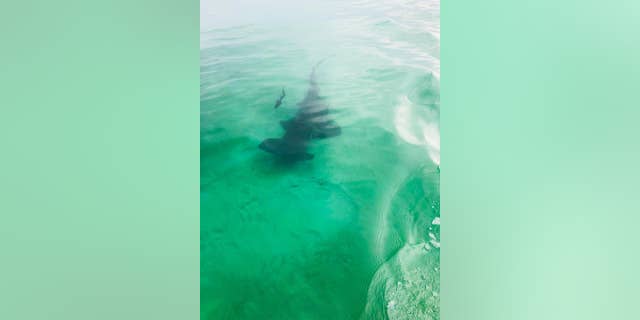 WORLD'S SECOND-LARGEST SHARK CAN JUMP JUST AS HIGH AND AS FAST AS GREAT WHITES
"I stood up and grabbed camera and started recording. [The shark] started to move and came close to the boat before it headed back out to deeper water," Lauren told Fox News on Wednesday.
"It was pretty impressive. It was a big shark," Lauren, who estimated the sea creature was roughly 10 to 12 feet in length, said. "My husband thought it was awesome."
In 2014, the scalloped hammerhead -- named for the scallop-like shape on the front of its head -- became the first species of shark to be protected by the U.S. Endangered Species Act, Scientific American reported at the time. According to the National Oceanic and Atmospheric Administration Fisheries, the species has largely been affected by the commercial fishing trade.
SIX SHARKS KILLED AFTER ATTACK ON SWIMMERS NEAR GREAT BARRIER REEF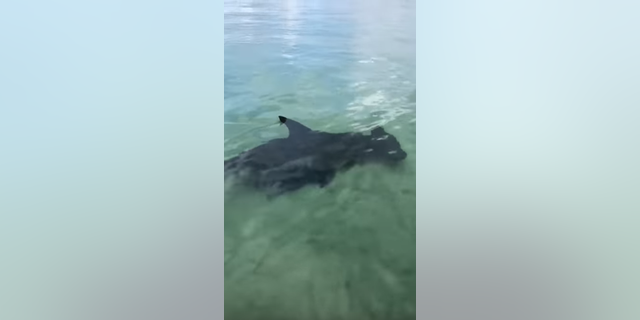 Scalloped hammerheads are not typically found in shallow water, Terra Throgmorton, a senior aquarist at the Gulfarium Marine Adventure Park, told The Destin Log, adding that it could've been there to hunt for fish and stingrays, or was possibly a female attempting to give birth.
Either way, "I was so impressed because it was so beautiful," Throgmorton told the newspaper.
After spotting the shark, Lauren posted a video to the Facebook group "Let's Talk Destin!" Since then, the video has garnered 18,000 shares and more than 2,000 reactions.