Florence puts South Carolina regions under tropical storm advisories for the first time ever
As Hurricane Florence made landfall in the Carolinas Friday morning, some counties in the middle of South Carolina saw something for the first time ever – a tropical storm warning.
The National Weather Service (NWS) of Columbia, issued tropical storm watches and warnings for a bevy of counties in the Midlands region, located in the middle of South Carolina, by Friday.
In the past, the NWS in South Carolina only had the designation of "high wind" warnings when hurricanes or tropical storms brought extreme wind conditions to noncoastal areas in the state. But this year – just in time for Hurricane Florence – that changed, Rich Okulski, the NWS in Columbia's meteorologist-in-charge, told Fox News.
Florence, a slow-moving storm, made landfall near Wrightsville Beach, North Carolina, located about 50 miles from the border between the Carolinas, with maximum sustained winds of 90 mph early Friday morning. The storm has the possibility to bring catastrophic storm surges, damaging winds and rains, tornadoes and mudslides – including inland.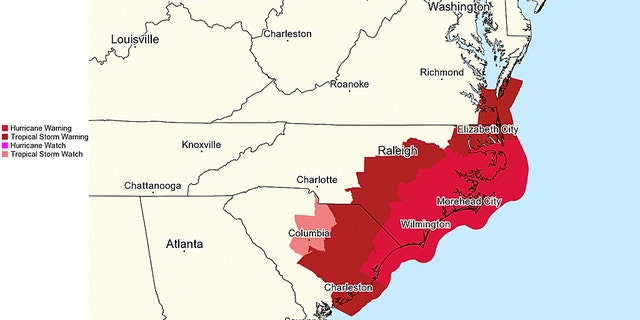 By Friday morning, Calhoun, Chesterfield, Clarendon, Lee, Orangeburg and Sumter counties were under tropical storm warnings. The counties of Fairfield, Kershaw, Lancaster, Lexington and Richland were under tropical storm watches.
"We're looking at wind gusts over the Midlands area in the central part of the state running over 60 mph near Manning to close to 50 [mph] in Columbia," Okulski said.
He encouraged people in the affected areas to ensure outdoor items, such as trampolines or furniture, are properly secured soon.
"This is going to be a long duration event," he said. "You're going to have elevated winds starting tonight through Sunday, which is unusual for a tropical cyclone. This is going to slowly drift across South Carolina."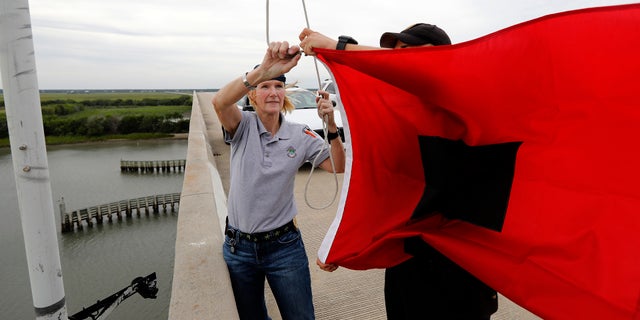 Despite the newness of the tropical storm advisories for those in the Midlands area, there have been other times, too, when the Midlands region experienced hurricane-force winds. For example, when Hurricane Hugo hit near Sullivan's Island, South Carolina, in 1989, hurricane-force winds were experienced from Columbia to Charlotte, North Carolina, Okulski said.
HURRICANE FLORENCE LASHES CAROLINAS, RESIDENTS SHARE FIRST, HARROWING VIDEOS OF STORM'S FURY
Florence presents many dangers to Carolinians who don't live on the coast. It could cause flash flooding or trigger mudslides near the mountains due to the region's topography.
"Just because you're not on the coast doesn't mean you won't get some big impact," the National Hurricane Center's Ken Graham warned ahead of the storm making landfall.
Janey Camp, a research associate professor of civil and environmental engineering at Vanderbilt University, warned of the impact the "deluge of precipitation" that comes along with hurricanes could bring to noncoastal areas.
"Hurricanes don't move through like typical storm events; they are these massive events with a lot of rainfall, and sometimes they move fairly slowly once they make landfall and drop a lot of rain on communities that may not have infrastructure prepared to handle that," Camp told Fox News.