Failed Russian Mars Probe Could Crash to Earth in January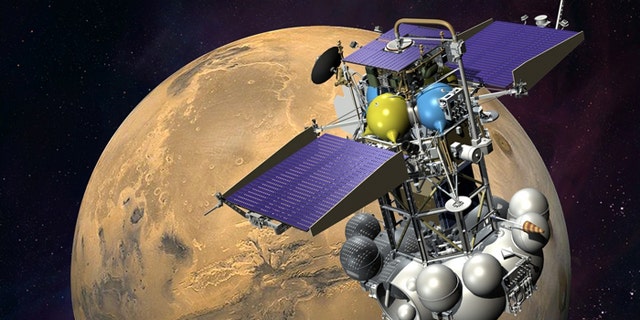 NEWYou can now listen to Fox News articles!
MOSCOW – Russia's failed Mars probe could come crashing down to Earth in January unless scientists can find a way to blast it out of low-Earth orbit, the head of the Roscosmos space agency said Monday.
The unmanned Phobos-Grunt spacecraft blasted off toward the Red Planet last Wednesday where it was hoped to bring back rock and soil samples from the moon Phobos.
But its engines failed to put in the correct course, and the craft only managed to reach an orbit about 125 miles from Earth. Scientists were still trying to regain communication with spacecraft.
"We estimate that the Phobos-Grunt will fly until January, and to make it perform its mission, we still have time until the beginning of December," Roscosmos general director Vladimir Popovkin was quoted as saying by the Ria Novosti news agency.
Popovkin said there was little chance that the probe would hit a populated area when it crashed down.
"There are 7.5 metric tons of fuel in the aluminum tanks on board. We have no doubts that they will explode [and destroy the probe] upon re-entry," Popovkin said. "It is highly unlikely that its parts would reach Earth."