Extremely rare silver fox caught in England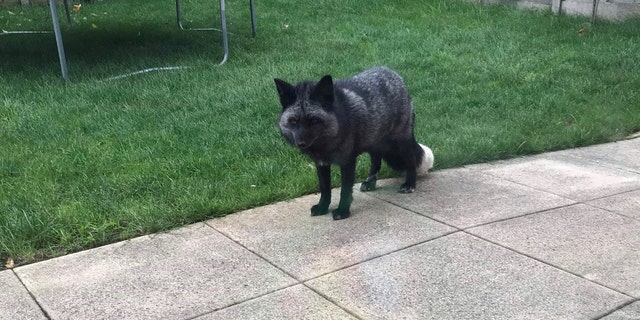 A rare silver fox has been found in a garden in Alsager, Cheshire and is now being looked after by the Royal Society for the Prevention of Cruelty to Animals (RSPCA) until a suitable home can be found, SWNS reports.
This particular fox has been nicknamed "Shadow" by the RSPCA and is believed to be a family pet, given its docile nature.
Ex-RSPCA inspector Amanda Lovett came to the aid of the shocked homeowner who found Shadow, helping capture the confused creature and get it to safety at the Stapeley Grange Wildlife Centre in Nantwich.
WARNING GRAPHIC IMAGES: HUNDREDS OF BUFFALO DROWN IN DESPERATE ATTEMPT TO ESCAPE LIONS
"I was alerted to a post on a local Facebook group and it would seem the fox had been in the garden for most of the day," Lovett said in comments obtained by SWNS. "This was on Saturday, one of the biggest nights for fireworks, and we knew we had to get the fox to safety."
She continued: "I managed to safely catch the fox with a grasper and put him in a cat box before taking him to Stapeley Grange, who kindly stayed open later so he could be admitted. He was very quiet and seemed tame."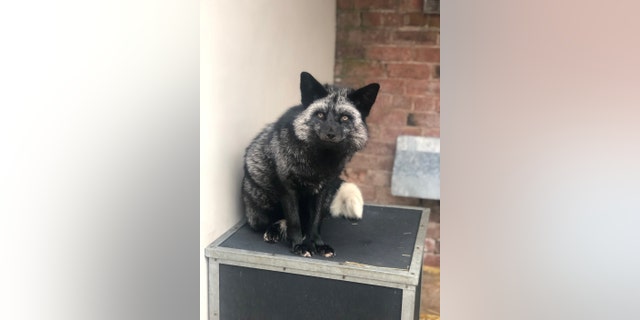 Silver foxes are genetically the same as red foxes, according to World Atlas. The difference lies simply in the fur color, which can range from silver to almost complete black. They are often bred for their fur and are often kept as pets.
The fox has been described as "a little overweight" but is generally thought to be in good health.
Like their red-haired brethren, silver foxes have an omnivorous diet and will eat everything from rodents and rabbits to berries and plants, Wild Atlas adds. They've also been known to attack livestock and even cats, "often carry[ing] their prey to a secluded area or their den where it is eaten by the adults and young," according to the New Jersey Division of Fish & Wildlife.
DOG PICS GO VIRAL AFTER SHE COMFORTED HERSELF IN A WAY THAT'S BREAKING PEOPLE'S HEARTS
Silver foxes have been found across North America and Europe and range all the way to Asia and Even Australia, Wild Atlas adds.
Lee Stewart, manager of Stapeley Grange, said: "It is likely that Shadow has been kept as a pet and he has either escaped, in which case we need to find his owners, or he has been dumped by his owners.
"He was checked over by our team of vets and was found to be in good health, just a little overweight. He is eating fine and seems to be doing well."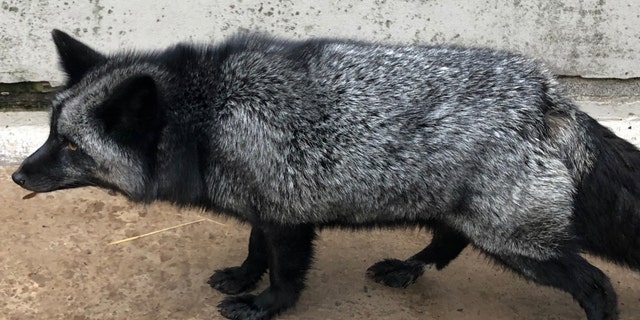 Stewart continued: "He is the first silver fox we have ever had here at Stapeley Grange, in nearly 25 years we have been open. He is an impressive-looking animal and it has been interesting to us all to have such a rare admission."
If someone does not come forward for Shadow, the fox will be handed over to a specialist owner.