Elvis Presley's divorce papers up for auction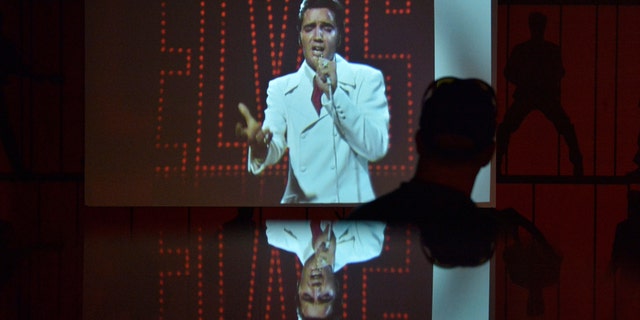 Divorce settlement papers from Elvis and Priscilla Presley will be up for auction in the U.K. this weekend.
The document, dated Aug. 15 1972, is described as "a fabulous piece of show business history," by Henry Aldridge & Son auctioneer Andrew Aldridge.
"Each of the 12 pages contains fascinating details and offers the reader a snapshot into the details involved between both parties that only legal documents can give," he explained, in an email to Fox News. "Sadly unfortunate circumstances and unhappy differences had arisen between the parties which resulted in them living separately from February 23, 1972."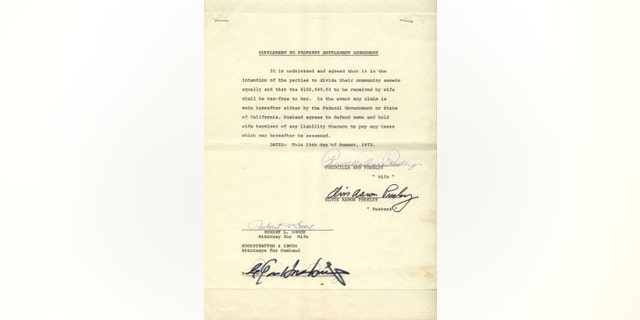 AFTER LOST BOB MARLEY TAPES WERE FOUND, THE HARD WORK BEGAN
As part of the settlement, Elvis signed over to Priscilla his famous 1971 Mercedes Benz, his 1969 Cadillac Eldorado, a 1971 Harley Davidson motorcycle, and $100,000. Priscilla would also receive half the income from three rental homes in California.
"The document is signed by Elvis (twice in his full name Elvis Aaron Presley and once with his initials EAP) and four times by Priscilla (three times in her name Priscilla Ann Presley and once with her initial's PAP) also signed with their attorneys signatures," Aldridge said.
The divorce settlement papers, which will be auctioned by Henry Aldridge & Son on Saturday, have a pre-sale estimate of $26,318 to $32,898.
Earlier this year, Elvis' first music agency contract sold at auction for $48,689.
Follow James Rogers on Twitter @jamesjrogers