Dropped Tool at NASA May Have Damaged Shuttle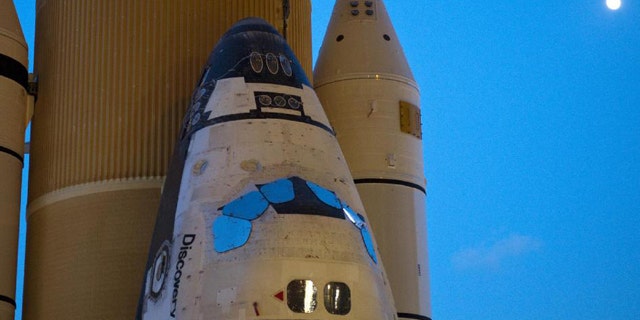 NEWYou can now listen to Fox News articles!
CAPE CANAVERAL, Fla. – NASA is checking space shuttle Discovery to see if it was damaged by a dropped tool. Discovery is supposed to blast off Feb. 24 for the International Space Station after a delay of nearly four months.
A NASA spokeswoman said Wednesday that a measuring gauge came apart Tuesday night during repair work. The tool may have struck Discovery's external fuel tank as it fell.
Spokeswoman Candrea Thomas said the metal gauge is small. It was tethered properly to a worker, but came apart and some pieces fell.
"They're still looking to see if there's any damage," Thomas told FoxNews.com. NASA conducted a walkdown review of the shuttle last night and a second scan this morning to look for damage. The space agency will most likely review the data it gathers in a meeting tomorrow, she said.
This week, workers are replacing a shuttle seal to prevent another hydrogen gas leak. Leaking gas halted Discovery's countdown in November. Fuel tank cracks contributed to the lengthy delay.
Check MyFoxOrlando for more news on the potential damage to the Shuttle.