Drone test for seabird survey delayed due to lack of permit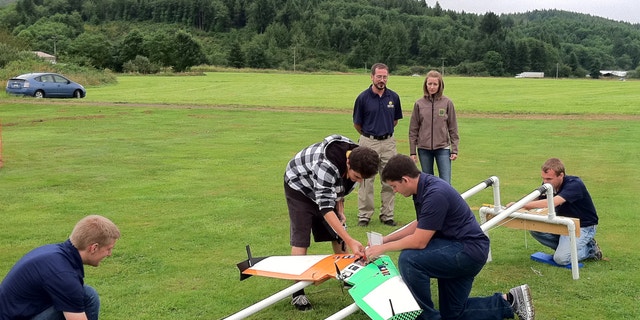 NEWYou can now listen to Fox News articles!
GRANTS PASS, Ore. – Plans to launch a drone aircraft to take photos of salmon-munching seabirds nesting along the Oregon Coast have been scrubbed for lack of a permit.
The Federal Aviation Administration told the Oregon Department of Fish and Wildlife that it needs a permit to fly even a tiny unmanned aircraft over the offshore rocks near Pacific City that are home to nesting cormorants.
Lindsay Adrean, predatory bird coordinator for the department, said officials hope to get the permit in time for next year's nesting season on Haystack Rock.
"All the regulations surrounding the drones are still pretty fuzzy," she said. "Figuring out what we need and when we need it has been a learning experience for everyone. I'm glad we found out before we did something wrong."
The survey data would go into the department's application to the U.S. Fish and Wildlife Service to kill some cormorants to reduce the numbers of young salmon and steelhead eaten by the birds.
The drone was developed by engineering students at Embry-Riddle Aeronautical University in Florida, who found out about the permit problem after getting to Oregon to do the test flights.
Unable to fly the drone, the students have been spending their time telling department personnel about the aircraft's capabilities, said assistant professor Patrick Currier.
"We would like to view this test flight as postponed rather cancelled," he said. "The season is ending for the birds to be here. Most of them have already left, actually."
Adrean got the idea after reading a story about drone helicopters being used in Idaho to survey salmon eggs in river canyons too small to fly with full-size aircraft. She thought a drone could cheaply and safely provide once-a-week aerial photos that would give a more accurate idea of cormorant numbers than the once-a-year photo flights they depend on now.
She contacted her brother, a robotics engineer, who introduced her to Currier.
Currier said a project his students developed for a contest sounded like it would be just the ticket.
Adrean said they went into the project thinking the airspace over Haystack Rock, part of a national wildlife refuge, was restricted, the way it is over a military base, and there would be no danger to private aircraft. That would have meant all they needed was permission from the agency controlling the property. They got that from the U.S. Fish and Wildlife Service.
But the FAA informed them that the area was not restricted air space, Adrean said. Pilots are encouraged to stay out of the area but not strictly barred.
FAA spokesman Allen Kenitzer said he could not disclose whether the department sought a permit, but he confirmed it would need one to fly a drone over the wildlife refuge.
Currier said the drone is made from a radio-controlled model airplane kit known as a Zephyr II, which looks like a flying wing measuring 54 inches wingtip to wingtip. They modified it by installing a sophisticated autopilot system that can be controlled from a laptop computer using GPS coordinates. They also installed a smartphone that takes photos, which are tagged by GPS coordinates, so they can be assembled later into a photo map.
The students built a catapult from a drill and PVC pipe for launching the drone, and hope to design another one that will break down into a backpack.