Daredevil Climbs Into Boiling Volcano, Brings Back Stunning Video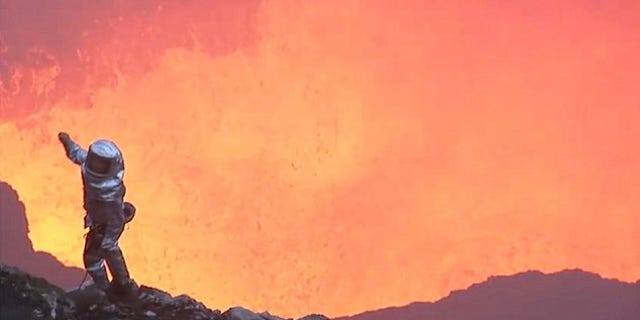 NEWYou can now listen to Fox News articles!
Extreme adventurer Geoff Mackley has taken up a new hobby -- hanging out inside live volcanos.
In his latest video, Mackley smiles and waves at the camera from inside the fiery, lava-filed abyss of an active volcano. The video clip is (unsurprisingly) already a hit on the Internet.
The 44-year-old New Zealander is no stranger to incredible danger. Along with his friend and cameraman Joe Morgan, Mackley has spent the last few years chasing the perfect storm, following Taiwan's Typhoon Dujan before meeting Hurricane Isabel in North Carolina.
It's no surprise his nickname is Dangerman -- and the Discovery Channel even created a TV series with the same name following the daredevil's exploits. Always in search of the next thrill, Mackley chose the remote Marum volcano on Ambrym Island in the South Pacific Ocean for his extreme expedition.
In the culmination of ten years worth of planning, Mackley and his team descended 500 yards into the pit of the volcano. It's the closest anyone has ventured to Marum's boiling lava, which has erupted several times over the last century, most recently in 2008.
"Nothing else in life will ever compare to the mind-blowing rush of being so close to a spectacle like this," Mackley wrote on his website.
Armed with a silver protective suit and oxygen canisters, Mackley was able to get as close as 100 yards. In fact his team would have gone even further "but we didn't have enough ropes," he told the website of London paper the Daily Mail.
He'll be sure not the make the same mistake when he and his team return in a few months.
A volcanologist told Daily Mail that it's possible to walk right up to a stream of lava -- though touching it, of course, is not recommended.
The men are believed to be the first people who have ever dared venture so close to the Marum volcano, which is found on the tiny Ambrym Island -- among 82 others in the Vanuatu archipeligo around 400 miles from Australia.
Just 8,000 people live on the island which has an area of 257 square miles.