COVID-19 personal protective equipment causes serious skin injuries, study reveals
Get all the latest news on coronavirus and more delivered daily to your inbox. Sign up here.
Medical staff treating coronavirus-infected patients found that 42 percent of those on the front-lines experienced skin injuries related to their personal protective equipment (PPE).
A study published in Advances in Wound Care and coauthored by a large team of Chinese clinicians concluded that these skin injuries put staff at increased risk of infection, with insufficient prevention and treatment measures in place.
VISUALIZATION SHOWS DROPLETS FROM ONE COUGH ON AN AIRPLANE INFECTING LARGE NUMBERS OF PASSENGERS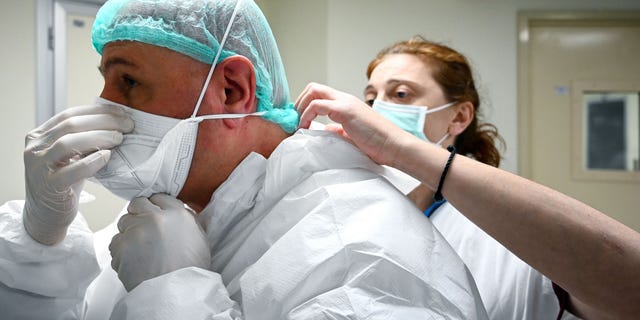 Researchers identified three main types of PPE-related skin injuries: device-related pressure injuries, moist associated skin damage and skin tear.
"These significant findings are consistent with independent observations in Europe and United States, and call for systematic studies addressing skin injury and repair in COVID-19+ patients as well as in their health care providers," said editor-in-chief Chandan K. Sen, distinguished professor at the Indiana University School of Medicine and executive director of Indiana University Health Comprehensive Wound Center, in a statement.
According to researchers, the main factors that increased the risk for injury included: heavy sweating, greater daily wearing time, being male and using grade 3 versus grade 2 PPE.
AMID CORONAVIRUS PANDEMIC, NEW GUIDANCE FOR TREATING STROKE PATIENTS DEVELOPED
Amid the global COVID-19 pandemic, there have been shortages of PPE and an outcry from health care workers in some areas who have dealt with a lack of preparedness -- forcing some nurses and medical workers to even use trash bags and other materials to protect themselves from infection.
As of Thursday afternoon, the virus has infected more than 3.2 million people worldwide; in the U.S., at least 61,547 have lost their lives to COVID-19.