Cincinnati Zoo New Cougar Cubs Make Their Debut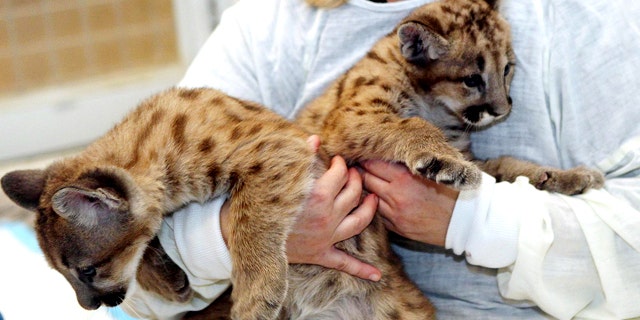 NEWYou can now listen to Fox News articles!
CINCINNATI – The Cincinnati Zoo has unveiled two new members of its nursery, 8-week-old male cougars Joseph and Tecumseh.
The zoo said Thursday that the cougars were born Sept. 19 and are now on display in the facility's Children's Zoo Nursery. The cubs weigh about 8.5 pounds and eat nearly half their weight in meat a day in four or five feedings. They will grow to about 140 to 200 pounds.
They soon will join the zoo's Cat Ambassador Program to prepare for roles as Animal Ambassadors in a Night Hunters exhibit planned for May.
Cougar are considered the largest of the small cats and are also called mountain lions, pumas or panthers.
In North America, they are found in the western half of the continent and in southern Florida.