Christian saint's bones unearthed in monastery destroyed by ISIS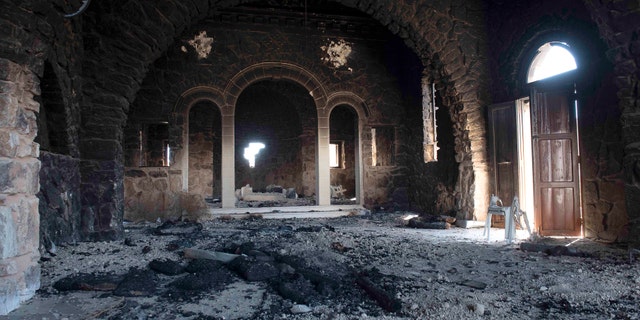 A Christian saint's bones have reportedly been unearthed amid the rubble of an ancient Syrian monastery destroyed by Islamic State.
Much of the fifth-century St. Elian, or Mar Elian, monastery in the town of Qaryatain has been reduced to stones by ISIS. Qaryatain was recaptured by Syrian government forces Sunday.
Channel Four News journalist Lindsey Hilsum reports that the bones of saints were clearly visible among the wreckage of the monastery, a once-cherished pilgrimage site.
The bones are thought to be those of St. Elian, also known as St. Julian of Emesa, which is the ancient name for the Syrian city of Homs. St. Elian was martyred in 284 A.D. after his refusal to renounce Christianity.
Related: Experts harness 3D printing to recreate ancient artifacts destroyed by ISIS
The U.K.-based Syrian Observatory of Human Rights reported that ISIS destroyed the monastery in August 2015. "They pulled it down using bulldozers claiming that 'the monastery is worshiped beside Allah,' SOHR said in a statement released Aug. 20 2015.
Militants also trashed an ancient church next to the Assyrian Christian monastery, and desecrated a nearby cemetery, breaking the crosses and smashing name plates.
Related: Syria works to save Palmyra's treasures as ISIS advances on ancient city
Midway between the ancient city of Palmyra and the Syrian capital, Damascus, Qaryatain was once home to a sizeable Christian population. Before IS took it over last August, it had a mixed population of around 40,000 Sunni Muslims and Christians, as well as thousands of internally displaced people who had fled from the nearby city of Homs.
As it came under militant attack, many of the Christians fled. More than 200 residents, mostly Christians, were abducted by the extremists, including a Syrian priest, the Rev. Jack Murad, who was held by the extremists for three months.
During the eight months that Qaryatain was under IS control, some Christians were released and others were made to sign pledges to pay a tax imposed on non-Muslims. Some have simply vanished.
Syrian forces recaptured Palmyra from ISIS last month, ending their reign of terror at the UNESCO World Heritage site. Palmyra, located about 150 miles northeast of Damascus, dates back to the second millennium B.C. The city was one of the most important cultural centers of the ancient world and has been home to Arabic, Aramaic, and Greco-Roman culture.
ISIS took control of Palmyra last year and subsequently demolished some of its best-known monuments, such as the Temple of Ba'al. The jihadists, who beheaded the city's former antiquities chief, also used Palmyra's ancient amphitheater for public executions.
The Associated Press contributed to this report.
Follow James Rogers on Twitter @jamesjrogers