Bronx Zoo's Ssslippery Snake Gets a New Name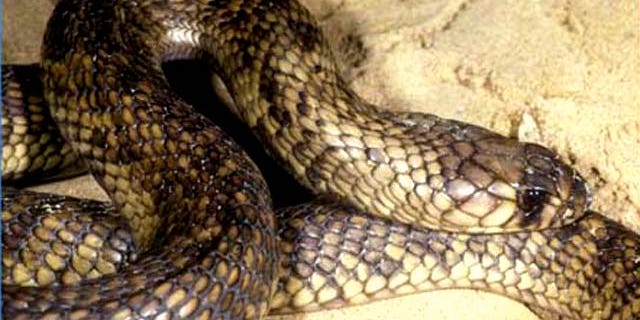 NEWYou can now listen to Fox News articles!
NEW YORK – Cleo was just too easy.
More than 33,000 nominations were submitted to the Bronx Zoo and New York Daily News to name the Bronx Zoo cobra, made more famous for her vanishing act than her venom. The big announcement came Thursday:
The cobra was named Mia (MEE'-uh), for "missing in action."
The venomous Egyptian cobra went missing two weeks ago and quickly became the stuff of legend. The animal was found last Thursday in a dark corner of the reptile house -- and the Zoo quickly launched the "name the snake" contest.
Also chosen as finalists in the name contest:
-- Cleopatra.
-- Agnes, which is Greek for pure or holy.
-- Amaunet, an ancient Egyptian goddess. It means "the female hidden one."
-- Subira (soo-BEE'-ruh), Egyptian for "patient."
Pranksters seized upon the tale of the 20-inch-long (50cm) snake shortly after she escaped from her enclosure at the reptile house on Friday and has not been seen since, and set up a Twitter account for the ssslippery ssserpent: @BronxZoosCobra.
"I should take in a Broadway show. Anyone heard anything about this 'Spiderman' musical?" she tweeted on Monday afternoon.
"Holding very still in the snake exhibit at the Museum of Natural History. This is gonna be hilarious!" another read.
The winning name was nominated 222 times and received 15,972 votes (27 percent), the Bronx Zoo said. The runners-up: Subira, 14,016 votes (24 percent); Amaunet, 11,672 votes (20 percent); Cleopatra, 10,730 votes (18 percent); Agnes, 6,777 votes (11 percent).
Now that Mia has received her official name and has settled into her exhibit at the Bronx Zoo's Reptile House, the building will be re-opened to the public on Saturday, April 9 and visitors will be able to see her -- freshly named -- for the first time.