Brazil firefighters try saving relics at 200-year-old National Museum after massive blaze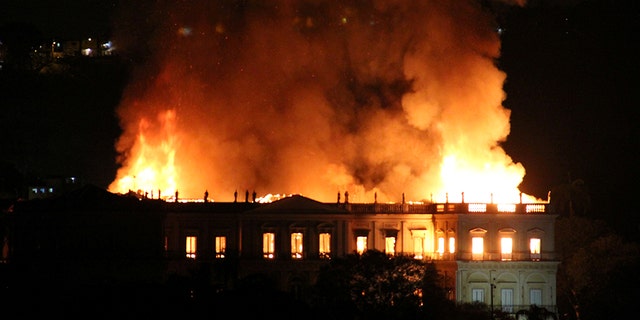 Brazil's National Museum has suffered catastrophic damages after a massive fire broke out on Sunday. Firefighters are working to salvage some of the artifacts inside the museum, which was once home to a 12,000-year-old skeleton, the oldest human remains ever found in the Americas.
Many of the 20 million items in the museum, formally known as Rio Museu Nacional, have been lost. However, Roberto Robadey, a spokesman for the fire department, said that some 80 firefighters were battling the blaze and some of the museum's pieces had been spared.
"We were able to remove a lot of things from inside with the help of workers of the museum," Robadey told Globo News.
THE LATEST: BRAZIL MUSEUM OFFICIAL SAYS RISKS WERE KNOWN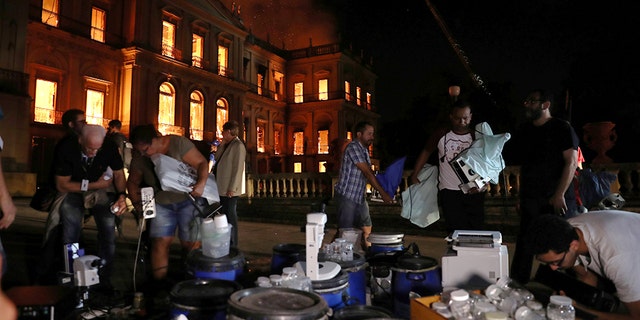 The museum contained pieces relating to anthropology, archaeology and paleontology, among other fields, including the aforementioned remains of a 12,000-year-old skeleton known as as "Luzia", the oldest ever discovered in the Americas, according to the BBC.
The museum also housed items from the 1500s, when the Portuguese arrived in the country, all the way up to 1889, when Brazil was declared a republic. It also had pieces from Greco-Roman times and Ancient Egypt, the BBC added.
In addition, the ethnology collection had pieces from the pre-Columbian era.
Many of its collections came from members of Brazil's royal family, officials said.
Robadey said that by midnight local time the fire was "just about under control." Smoke was still rising from the building the following morning.
President Michel Temer said it was "a sad day for all Brazilians."
He continued in a statement, "Two hundred years of work, investigation and knowledge have been lost."
BRAZIL'S NATIONAL MUSEUM, 200 YEARS OLD, GOES UP IN FLAMES
It was not yet known what caused the fire, which started after the museum closed on Sunday. The museum reportedly had infrastructure problems in recent years.
The museum is Brazil's oldest. Sérgio Sá Leitão, the country's culture minister, told the newspaper how tragic it was to see the museum in flames. According to a translation of his remarks, he said the fire "could certainly have been avoided."

Fox News' Nicole Darrah and The Associated Press contributed to this report. Follow Chris Ciaccia on Twitter @Chris_Ciaccia