Blue-green toxic algae invades Florida river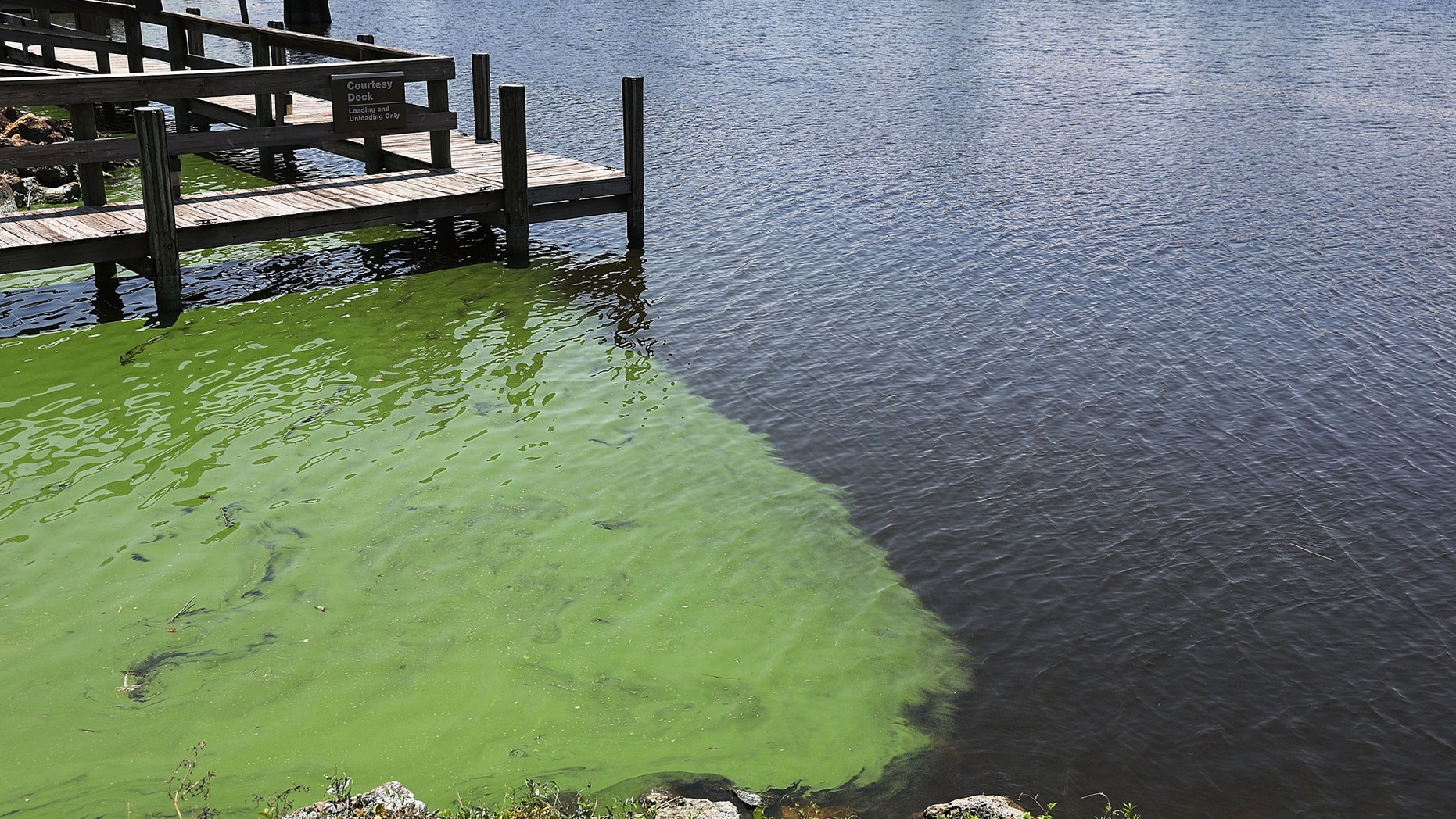 As Florida reels from the 'red tide' algae bloom on its Gulf Coast, a freshwater bloom on the other side of the state has caused blue-green toxic slime to appear in the St. Lucie River.
LiveScience reports that the blanket of goo is choking the estuary near Florida's southeastern coast.
Citing the Florida Department of Environmental Protection, TCPalm reports that a recent sample taken from the St. Lucie River estuary contained toxins that are 10 times the level considered hazardous.
RED TIDE CRISIS: THE SCIENCE BEHIND THE TOXIC ALGAE BLOOM ON FLORIDA'S GULF COAST
A sample taken from the St. Lucie River on Aug. 2 contained high levels of the toxin microcystin, according to officials. The EPA notes that, while the liver is the primary target of microcystin, it is also a skin, eye and throat irritant.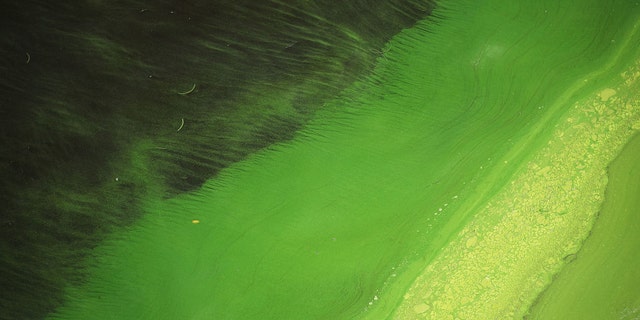 TCPalm reports that microcystin can result in nausea and vomiting if it is ingested. Touching or inhaling the toxin can cause rash or hay fever symptoms, it adds.
Nutrient pollution from agricultural and urban runoff causes the majority of freshwater cyanobacteria, or blue-green algae, blooms, according to the Florida Fish and Wildlife Conservation Commission.
FLORIDA BEACHES LITTERED WITH DEAD SEA TURTLES; SCIENTISTS BLAME RED TIDE
Heavy May rains caused Lake Okeechobee to discharge water containing blue-green algae into rivers and canals. The bright green sludge oozed onto docks, dams and rivers.
Last month, Florida Gov. Rick Scott declared an emergency to combat algae blooms caused by Lake Okeechobee water discharges.
Cyanobacteria, or blue-green algae, can be found in all of Florida's freshwater and brackish habitats – lakes, rivers and estuaries, according to the Florida Fish and Wildlife Conservation Commission.
The blue-green algae is different from the red tide algae bloom that has devastated marine life on Florida's Gulf Coast. A saltwater algae bloom, the red tide is a natural occurrence that happens due to the presence of nutrients in the water and an organism called a dinoflagellate. Beaches have been littered with dead sea life as a result of the naturally occurring toxic algae.
The red tide was declared an emergency by Florida Gov. Rick Scott on Monday.
The Associated Press contributed to this article.
Follow James Rogers on Twitter @jamesjrogers