Baby Atlantic sturgeon found in Virginia river for first time in nearly a decade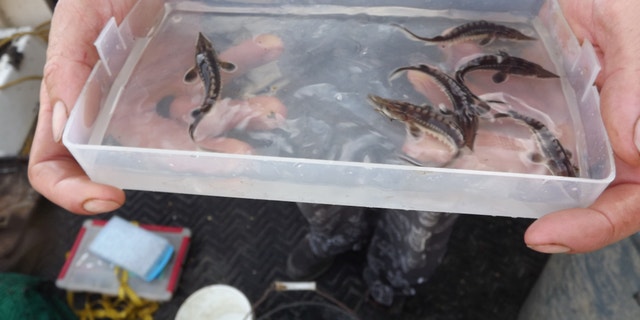 For nearly a decade, researchers with Virginia Commonwealth University in Richmond would conduct a trawl survey on the James River, never to come across any baby Atlantic sturgeon — a species that was listed as endangered in 2012.
But recently that changed, raising researchers' hopes that what the university says was "once-plentiful ancient fish" is making a comeback in the area.
VIRAL VIDEO SHOWS FISHERMAN SHOT WITH INK WHILE TRYING TO REEL IN SQUID
Researchers with the Rice Rivers Center — which "is at the center of the Virginia Sturgeon Restoration Team's effort to restore the sturgeon to its native range and historical stature within state waters," according to a news release from Virginia Commonwealth University — found the fish earlier this month while conducting a trawl survey, a method of catching fish with a net attached to a boat.
As of Monday, nearly 148 baby sturgeon have been found in the James River.
"We're really excited," one of the researchers, Matt Balazik, said in a statement. "It's been very encouraging. After going out all those times and catching nothing, it's been rewarding to start to see these fish at this stage."
Though researchers have previously identified more than 600 different adult sturgeon, the "imbalance between researchers' findings of adult fish and younger fish has been a source of concern because it indicates possible issues preventing survival at a rate to sustain the population in the James," the university explained.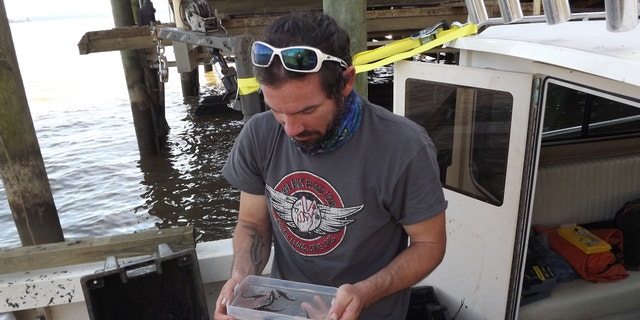 "It's exciting, but we knew that this was going on. We knew that there were fish at this age and size class because the fish are spawning. But the fact that we're catching so many this year when we haven't caught any in previous years makes me really hopeful that this will be a bumper crop year and we'll get a bunch of 1-year-olds next year," Balazik said, adding he will "starting popping the champagne" if "we're catching a bunch of age-1 fish" next year.
Atlantic sturgeon, which typically live for more than 50 years, have been affected by overfishing and habitat loss since the early 1900s, according to the U.S. Fish & Wildlife Service. Atlantic sturgeon eggs, specifically, were used as a "high quality" caviar in the late 1800s, according to the National Oceanic and Atmospheric Administration.
Female sturgeon in the James River typically reach sexual maturity around 15 years of age compared to males' roughly 10 years — key ages to ensure the population will continue to grow.
"But once they get to age 1, age 2, most likely they will make it to maturity and start to reproduce themselves and be recruited to the sturgeon population of the James. That's why we're hoping to see a bunch of 1-year-olds next year this time," Balazik continued. "That would be a great sign for the future of the sturgeon in the James."
CALIFORNIA TEEN BITTEN BY SHARK OFFERED FREE LIFETIME FISHING LICENSE
Moving forward, researchers are tracking the fishes' drifting patterns and are continuing to document any baby Atlantic sturgeon they find.
"It's nice to see these fish, though they still have a long way to go and a lot to deal with in natural mortality, mostly through predation, but what we're really hoping is that we see them again next year," Balazik added, noting he's not sure whether the "good bumper year" was caused by heavy rains which made for good river flow or there was "a lot of good spawning habitat this year."