Antelope sends honey badger flying in epic fight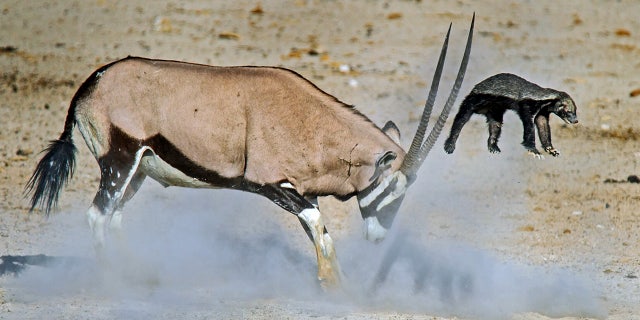 Maybe honey badgers do give a you-know-what.
An epic fight between an antelope and a honey badger has gone viral after pictures emerged of the antelope sending the badger flying.
The honey badger, known for being an aggressive animal, got into a tussle with an antelope at Etosha National Park in Namibia. After the oryx decided it had had enough of the honey badger, it used its prodigious horns to send it flying into midair.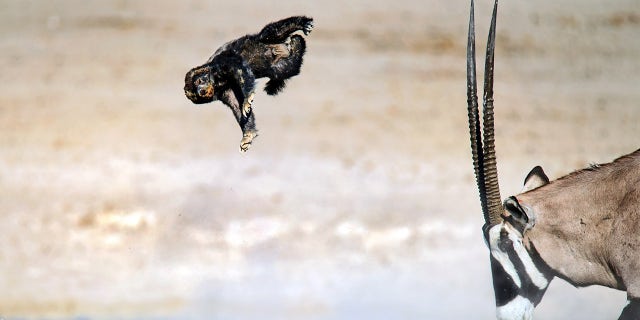 PANAMA MONKEYS MAY HAVE BEGUN THEIR OWN STAGE, SCIENTISTS SAY
In 2011, a YouTube video about a honey badger went viral, with the narrator talking about how it does not take any nonsense.
The photographer who captured the incredible pictures at Etosha National Park, Dick Theron, said that the honey badger wouldn't give up the fight until the oryx decided enough was enough.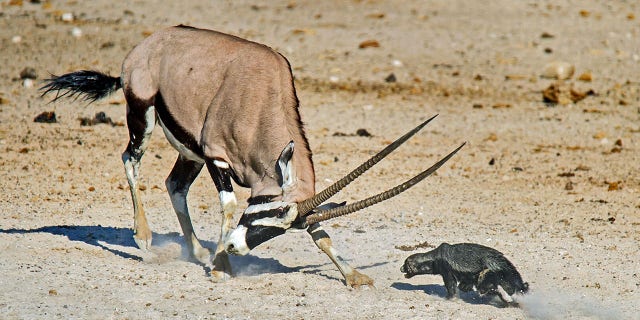 "It kept on charging at the oryx, then the oryx would hook the badger between its horns and toss him five or six meters into the air," Theron said, according to the Daily Mail.
"The first time I thought the honey badger must be dead or seriously injured, but it just got up, shook itself and then charge at the oryx again!" Theron added.
Originally a game reserve, Etosha National Park, located in northwestern Namibia, has been a national park since 1967.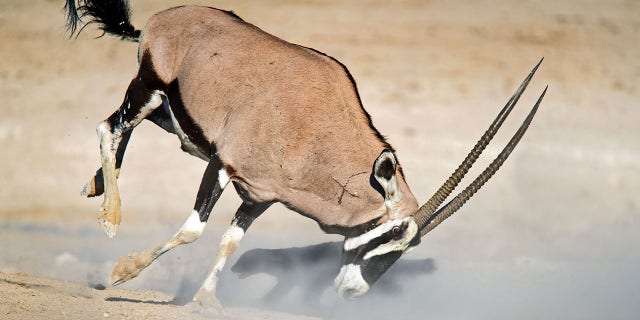 Approximately 200,000 people visit the park every year to spot animals such as the African bush elephant, Angolan giraffe and Southwest African lion, in addition to the aforementioned honey badger and oryx.
Follow Chris Ciaccia on Twitter @Chris_Ciaccia