Ancient superpredator ate sharks for lunch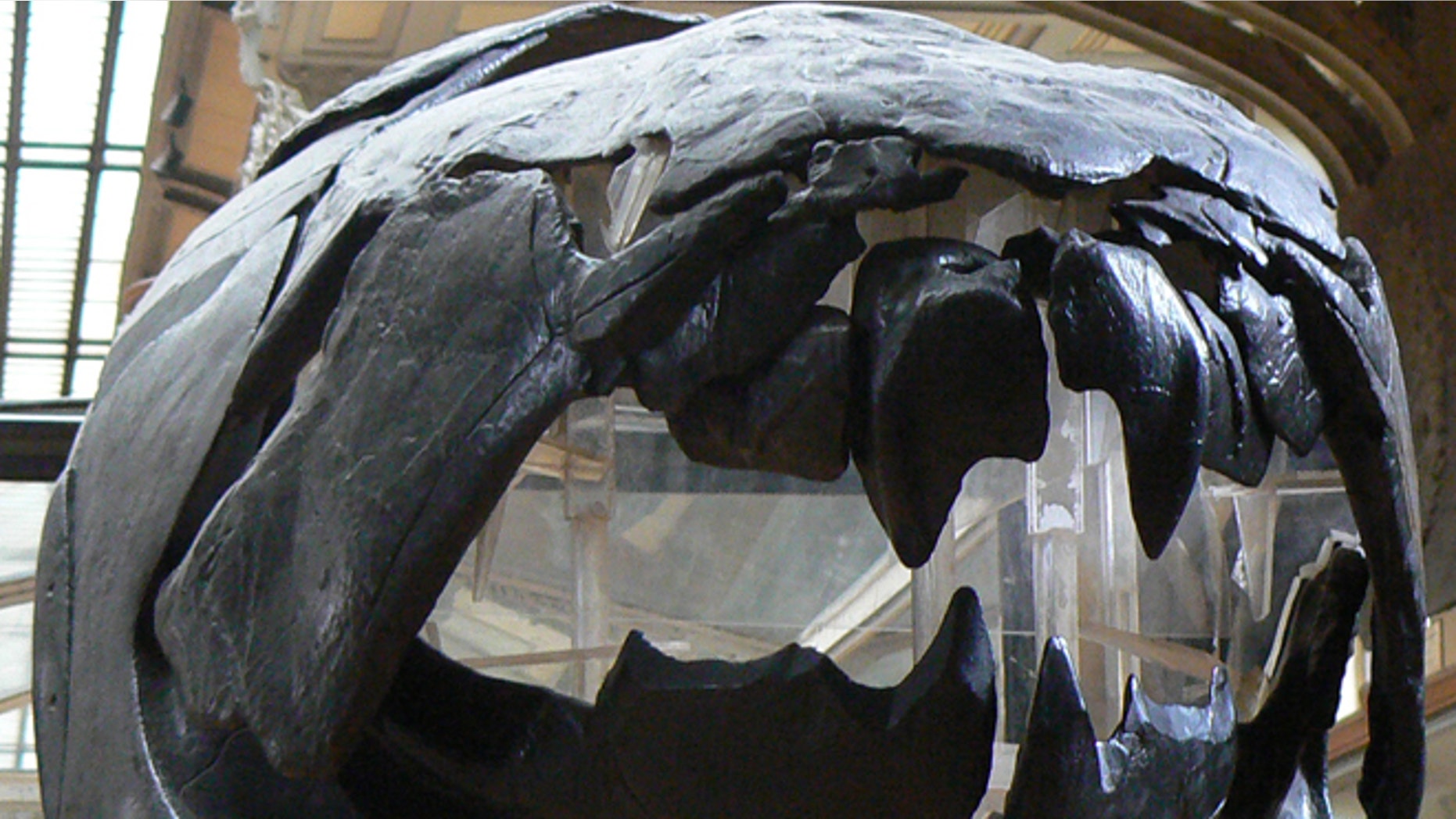 ERIE, Pa. – Present-day Erie was under a saltwater ocean 364 million years ago.
And a top-of-the-food-chain predator in that ancient ocean ate sharks for lunch. And for breakfast and dinner, too.
Erie geologist Scott McKenzie is patiently putting together pieces of the skull and shoulder armor of that powerful prehistoric fish, Dunkleosteus, the rest of whose remains are embedded in sandy shale in an Erie County location he cannot reveal in an agreement with the private property owners.
Now that spring is almost here, McKenzie, colleagues from other universities and geology students will return to the site to see if erosion through wind, rain and snow have exposed more bones.
[pullquote]
"We're restricted to surface collection," said McKenzie, assistant professor of geology at Mercyhurst University. "The landowners don't want a significant hole dug on the land." And digging could damage the missing pieces, he said.
Some years, they find nothing. Other years, they find more bones to add to the collection.
"It's eroding slowly -- much too slowly for my taste," said McKenzie, who makes several trips to the site during the year.
In 10 years, or sooner, McKenzie hopes to have the skull and shoulder armor of Dunkleosteus put together and displayed at the university's Sincak Natural History Collection, where he is curator.
When his work is complete, the specimen will be impressive -- the head, including the shoulder armor, will rival the front of a Volkswagen Beetle in size, he said.
Dunkleosteus was arguably the most terrifying creature during the Devonian period, and its huge jaws opened so fast they created a suction force that pulled prey into its mouth, according to the Cleveland Museum of Natural History.
Among its many fossil specimens of the creature, the museum has a giant armored skull of Dunkleosteus terrelli on display. McKenzie doesn't know if the fish he's reconstructing is the terrelli species until he gathers more material.
Dunkleosteus -- named after the late David Dunkle, one of the Cleveland museum's former curators -- varied from 15 to 30 feet in length, and possibly weighed up to 4 tons.
McKenzie said the Erie County find likely wasn't a full-grown adult, but still was probably 15 to 25 feet long and weighed about 1 ton. He said it could be the largest of its kind found in Erie County.
"If you caught him on a rod and reel, you'd be in for the fight of a lifetime. And if you fell in (the water), heaven help you because no one else could help you," he said. He displayed the Erie County remains of the ancient fish and pieces of others in a university classroom last week.
Talk about "Jaws." The giant predator could snap a prehistoric shark in two with its "razor-sharp jawbones," according to the Cleveland Museum.
And yet it was a bit of an oddity. The fish did not have developed teeth.
"Instead, the edges of their jawbones kept sharp by rubbing against each other like self-sharpening scissors," the museum said on its website.
A SPECIAL OCCASION
Though McKenzie won't reveal the site, he said the remains would be difficult to locate. They are along the side of a stream bank in a heavily wooded area, and a passer-by also would have to recognize that the bones are embedded in the rock, he said.
Some geologists use their tongue to lick bone to distinguish it from rock. The tongue tends to stick to the bone because -- even all these years later -- it draws water to the tongue, he said.
McKenzie doesn't use that method. "I'm a little bit of a germophobe," he said.
McKenzie and Mercyhurst geology students use tools to strip the rock from the bone. "It's a delicate procedure because you don't want to leave any tool marks on the bone," he said.
McKenzie gets a lot of help in gathering pieces of this monster fish and pieces of others like it. He frequently relies on collectors to scout out sites and bring in the remains.
The shoulder armor he is now reconstructing was found by Kirk McFadden, president of the Gem City Rock and Mineral Society. McFadden lifted it out of the ground and carried it out in a backpack, McKenzie said.
McKenzie said it's not rare to find scraps of bone, but he called it "a special occasion" to find a whole plate or the skull and shoulder armor. The body of the fish probably wasn't preserved, he said.
Most specimens from North America have been collected from Cleveland shale in Ohio, said Joe Hannibal, curator of invertebrate paleontology at the Cleveland Museum of Natural History.
"It's really interesting to see somebody put together a reconstructed skeleton based on material from somewhere outside of Ohio," Hannibal said.
"It's good to have another pair of eyes and another brain there to try to figure out how these bones go together, and Scott has a lot of experience in paleontology and he's very insightful," he said.
Hannibal said the rocks of western Pennsylvania are "somewhat different from those of the classic fossil fish-collecting areas in the Cleveland area, and represent somewhat different environmental conditions.
"And so the fossils that Scott has may or may not be somewhat different from the ones in this area, but that remains to be seen," he said.
GOLDEN TICKET
When he's not reconstructing the fish, McKenzie said he keeps the pieces in a storage area with "proper ventilation and security." The geologist said he once kept fossils of that fish and other prehistoric species at home until his wife insisted that they be moved because "the buckets and buckets and buckets of rock fragments" took up too much space.
He's turned over thousands of various animal fossils to the Carnegie Museum in Pittsburgh and hundreds more to the Cleveland Museum of Natural History.
McKenzie said bones such as the one he is putting together are "all over the place," saying it's a matter of recognizing them.
"Every streambed, every rock exposure, is like a lottery ticket, and you could scratch it and come up with Dunkleosteus," he said.