Ancient Roman boxing gloves discovered near Hadrian's Wall
Archaeologists in the U.K. have unearthed ancient boxing gloves at the Roman fort of Vindolanda, just south of Hadrian's Wall in Northern England.
The leather gloves, which are not a matching pair, have thrilled archaeologists. One glove even has the impression of the wearer's knuckles.
Unlike modern boxing gloves, the artifacts have the appearance of a protective guard, according to The Vindolanda Trust. "The larger of the two gloves is cut from a single piece of leather and was folded into a pouch configuration, the extending leather at each side were slotted into one another forming a complete oval shape creating an inner hole into which a hand could still easily be inserted," it explained, in a statement. "The glove was packed with natural material acting as a shock absorber."
ROMAN SWORDS UNEARTHED AT ANCIENT CAVALRY BARRACKS NEAR HADRIAN'S WALL
The larger glove is extremely worn on the contact edge, and has also been repaired – a circular patch covers a tear. The slightly smaller glove was uncovered in near perfect condition, according to The Vindolanda Trust. It was constructed in the same way as the larger glove but has been filled with a tight coil of hard twisted leather.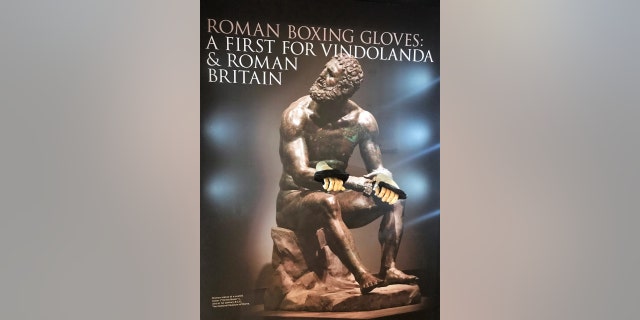 Archaeologists think that the gloves were used by Roman legionaries for sparring. Known as caestu in Latin, the gloves are likely a practice version of the gloves used in professional ancient boxing, which employed a metal insert. Wear and tear on the larger glove may have rendered it unfit for use, although experts think that it many have been kept alongside the 'newer' model because the owner was so attached to it.
"I have seen representations of Roman boxing gloves depicted on bronze statues, paintings and sculptures but to have the privilege of finding two real leather examples is exceptionally special," said Dr. Andrew Birley, CEO of The Vindolanda Trust and its director of excavations, in a statement.
DELICATE DISCOVERY: HOW A RARE ROMAN MOSAIC WAS LIFTED FROM THE GROUND
The gloves, which were found last summer and revealed on Tuesday, are just the latest in a series of fascinating finds at the ancient site. Last year, a trove of artifacts, including Roman swords, was discovered at Vindolanda. Researchers also found 25 wooden ink documents at the former fort, offering a fascinating glimpse into everyday life in the Roman Empire.
Researchers also discovered 25 wooden ink documents at the former fort, offering a fascinating glimpse into everyday life in the Roman Empire.
Follow James Rogers on Twitter @jamesjrogers