Ancient honors: Inscriptions uncovered at synagogue in Israel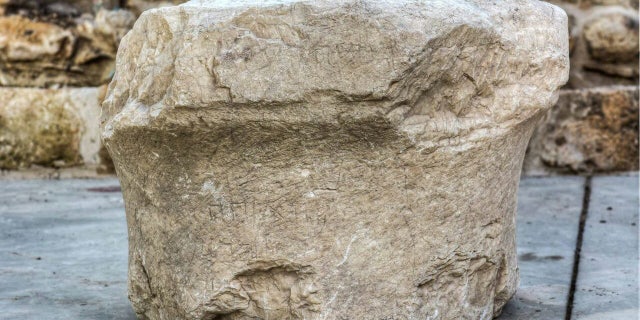 The top of a limestone column discovered in the Western Galilee may pinpoint the location of the ancient village of Peqi'in, where the Galilean sages hid in a cave from the Romans 1,800 years ago, Israeli antiquities experts say.
The stone, found upside-down during a renovation and conservation project, is engraved with two Hebrew inscriptions that experts believe were written to honor donors to the ancient synagogue that once stood there.
"The Talmudic and Midrashic sources tell of the Galilean sages that lived in Peqi'in, including Rabbi Shimon Bar Yochai, who hid from the Romans in a cave," said Yoav Lerer of the Israel Antiquities Authority, in a press release.
3,000-YEAR-OLD ROYAL TOMB DISCOVERED IN EGYPT
"However, there are those who disagree with the identification of the location of Peqi'in.
"I believe that these inscriptions will add an important tier to our knowledge about the Jewish settlement in the village of Peqi'in during the Roman and Byzantine periods."
The column was discovered amid the rehabilitation and conservation of the ancient synagogue and a visitor center at Peqi'in and nearby Beit Zinati. The visitor center will tell the 2-millennia-long history of the Jews in the area, as well as the story of the village's oldest Jewish family, the Zinatis, one of whose descendants, Margalit Zinati, still lives in the house next door to the synagogue.
"Peqi'in is one of the most significant sites in the Galilee, and is a place where there has always been a Jewish presence," said Ze'ev Elkin, minister of Jerusalem Affairs and Heritage, in the statement. "It is a great honor for me that during my tenure in office such an important discovery has been made that tells this 2,000-year-old story of the Land of Israel."
12th DEAD SEA SCROLLS CAVE DISCOVERED IN ISRAEL
"This is a historical discovery of unparalleled importance," said Uriel Rosenboym, director of Beit Zinati.
"No one can argue with the written artifact. There was an ancient synagogue here, and the synagogue was built in its current form in recent centuries."