17th-century shopping list discovered in UK attic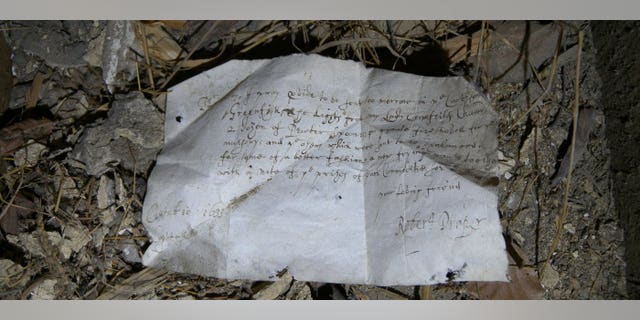 NEWYou can now listen to Fox News articles!
His real name is Jim Parker, but you can call him Jimdiana Jones.
Parker, an archaeology volunteer with the National Trust in England, recently discovered two letters written on rag paper, a high-quality parchment, in the attics of the historic Knole house in Kent, England. Formerly a medieval archbishop's palace, the buildings of Knole House were remodeled in the 17th century and now offer a fascinating glimpse into the past.
The letters, along with a third found by a building contractor in a ceiling void, are nearly 400 years old.
HUMAN SKULL IN MUSEUM EXHIBIT STUNS RESEARCHERS
The discoveries were featured on the website of the National Trust, a nonprofit dedicated to preserving special places throughout England, Wales and Northern Ireland.
One of the letters, written in 1633, was an appeal for domestic items to be sent from London to Copt Hall in Essex. The writer, Robert Draper, is thought to have been a distinguished servant.
He wrote:
Mr Bilby, I pray p[ro]vide to be sent too morrow in ye Cart some Greenfish, The Lights from my Lady Cranfeild[es] Cham[ber] 2 dozen of Pewter spoon[es]: one greate fireshovell for ye nursery; and ye o[t]hers which were sent to be exchanged for some of a better fashion, a new frying pan together with a note of ye prises of such Commoditie for ye rest.
Your loving friend
Robert Draper
Octobre 1633
Copthall
Many large items, including trunks of linen and furniture, were moved from Copt Hall to Knole 300 years ago when the daughter of Copt Hall's owner married the owner of Knole.
EXPERTS UNCOVER 38,000-YEAR-OLD ENGRAVINGS
"I was very excited to see some pieces of paper hidden underneath some rush matting," said Parker. "The first piece was folded and very dusty. We realized it was a letter and there was writing on it which looked like a seventeenth century hand. I was nicknamed 'Jimdiana Jones' after that!"
After the crumpled letters were photographed in their original state, they were cleaned with delicate brushes, rubber powders and archival document cleaners, then placed in a humidifying chamber to relax the paper fibers. Then they were smoothed in a paper press.
"The biggest challenge was the significance of the letters," said Jan Cutajar, the objects conservator. "I was conscious the work had to be of the highest quality. When you think that you're reading someone's handwriting from 400 years ago, it sends chills down your spine."
A FARMER'S STORY OF MOLES COULD HAVE LED TO LOST CITY
All three letters have been put on display at Knole's visitor center.