Top Backyard BBQ Smokers Reviewed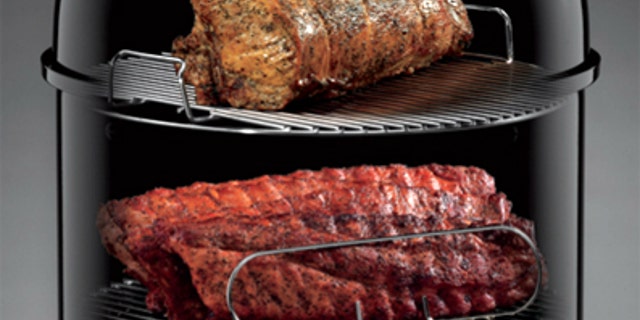 While melt-in-the-mouth ribs or pork shoulder can be a true challenge to achieve, with the right equipment, pro-level BBQ is within reach to even the most casual backyard pitmaster. With that in mind, we review some of the top-selling smokers out there so you can put a little south in your mouth, no matter where you live.
Masterbuilt Electric Smoker ($200)
The Masterbuilt is an electric smoker, which means the heat is controlled by an electric element, while the smoke is produced by wood chips that smolder over the heat source. Some barbecue enthusiasts complain that this style of cooker doesn't produce the same rich, smokey-flavored meat that you'd get from a wood- or charcoal-fired smoker. However, if you're an absolute novice who doesn't want to spend an entire day trying to maintain a steady temperature just for a few racks of ribs, the Masterbuilt is a great place to start.
This cabinet-style cooker is built like a mini-fridge and features four racks, enough space to feed your entire block. It's a solidly constructed smoker and its digital controls allow you to set both the temperature and cooking time, so you can set it, forget it, and feast several hours later when your food is done.
Pros: Easy to control, making it the best smoker for beginners. Plenty of rack space.
Cons: Can't replicate the flavor of a true wood or charcoal smoker.
Bradley Smoker ($400)
With this smoker, Bradley set out to make barbecuing simple enough that a kid could do it. The Bradley is an electric box-style smoker, much like the Masterbuilt, but whereas the Masterbuilt uses real wood chips, Bradley uses a proprietary system of wood pucks — sort of like hockey pucks made from wood chips — that plop down one at a time on a conveyor belt. This allows you to stack up 20 pucks at a time, eliminating the need to refuel the smoke source. While it adds a touch of convenience, the pucks are a lot more expensive than wood chips and not nearly as easy to find.
The Bradley is also quite a bit more expensive than the Masterbuilt, but you don't get a whole lot more for that added price. While the Bradley is a well-built piece of equipment, true novices looking for a starter smoker might want to pass in favor of the equally easy-to-use Masterbuilt.
Pros: Dead simple to use. A good amount of rack space.
Cons: Proprietary wood chip pucks. High price.
Weber Smokey Mountain ($257-$342)
Weber's Smokey Mountain cooker is a vertical water smoker, which means it puts a pan of water between the fire and your food. The water acts as a heat shield, helping you maintain a low and slow cooking method, while also keeping food moist. Since maintaining a constant temperature is one of the trickiest aspects of barbecuing, a water smoker is a great first choice for novices, while still giving you professional-grade results.
The Smokey Mountain has many of the same features you find on a regular Weber grill, from its solid steel construction to the nickel-plated grill grates. Should you ever need to cook a feast for the extended family (and then some) the bullet-shaped cooker gives you two cooking levels, enough space to smoke two whole hams.
The Weber is a solid all-around smoker, but there are a few drawbacks. While the side door gives you access to the water pan and coals, it's a pretty tight space to tend the fire, making it a bit of a pain to replenish the coals. The cooker also doesn't seal up as well as some other smokers, and the aluminum vents get hot, requiring that you keep a glove nearby to moderate the temperature. That said, these are small problems on an otherwise great cooker.
Pros: A great entry-level smoker. Produces excellent, moist barbecue.
Cons: Vents a little difficult to adjust. Doesn't seal in smoke as well as some cookers.
Big Green Egg ($870)
Universally beloved by barbecue professionals, the Big Green Egg is a beast of a cooker. Based on an ancient Japanese design that was brought to America by GIs returning from World War II, this kamado-style smoker is clad in a heavy layer of ceramic that seals up tight, trapping in smoke and moisture. The Big Green Egg company popularized the design in the 1970s, and now the market is flooded with imitators. Some do little but copy the Egg; but others, like the made-in-America Primo Smoker, actually improve upon the Egg's design, adding extra rack space and a host of accessories that make Primo's cookers much more versatile (and a little more expensive).
The Egg does lack the shelf-space of a box-style smoker, so you're limited to a few racks of ribs at a time. However, unlike the box-style smokers, the Big Green Egg is capable of doing both low-heat barbecue and high-heat grilling, making it a great choice for those that don't want to invest in both a smoker and a grill.
Adding extra coal to the Egg is a more cumbersome than it is with other smokers, but the Egg does such a great job retaining heat that replenishing fuel will be unnecessary for all but the longest cooking jobs.
At $870, the Egg is not a cheap option and probably not the best choice for beginners. But while the price is steep, these cookers are so well built that it is an investment that'll last a lifetime.
Pros: Can do both high-heat grilling and low-heat smoking. Solidly built and backed by a great warranty.
Cons: Expensive and very heavy. Limited cooking area.
Click here for more from FoxNews.com Home and Garden