Ohio homeowner burns down garage while attempting to kill weeds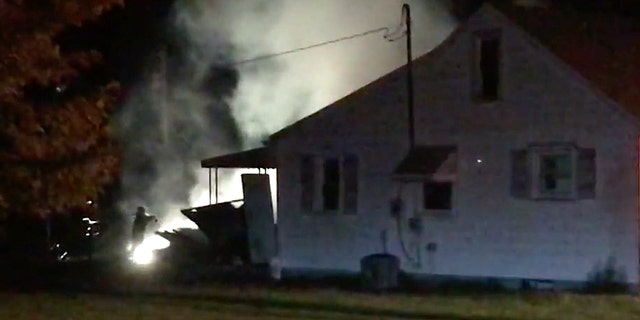 NEWYou can now listen to Fox News articles!
An Ohio man attempting to eradicate some pesky weeds nearly destroyed his home in the process when he accidentally set his garage ablaze.
On May 24, Springfield firefighters were called to a home on Scioto Street around 4 a.m. to battle a fire engulfing a detached garage, The Springfield News-Sun reports.
The unnamed homeowner was attempting to wipe out the weeds surrounding his garage with a torch, but the blaze soon grew out of hand, as evidenced in a photo shared by WHIO TV to Fox News.
PLANTING AROUND YOUR PROPERTY? AVOID THESE 5 COMMON MISTAKES MOST HOMEOWNERS MAKE
The Associated Press reports that the destroyed garage held tools and appliances, accounting for a loss of somewhere between $10,000 and $15,000.
Authorities are ruling the blaze as accidental.
CHIP & JOANNA GAINES OFFER FIRST POST-SHOW FLIP HOME FOR UNDER $400K
The accidental house fire in Ohio is in the second in recent weeks to make headlines. On May 6, officials announced that an exploding vape pen may have caused deadly fire at a Florida house.
FOLLOW US ON FACEBOOK FOR MORE FOX LIFESTYLE NEWS
The Associated Press contributed to this report.