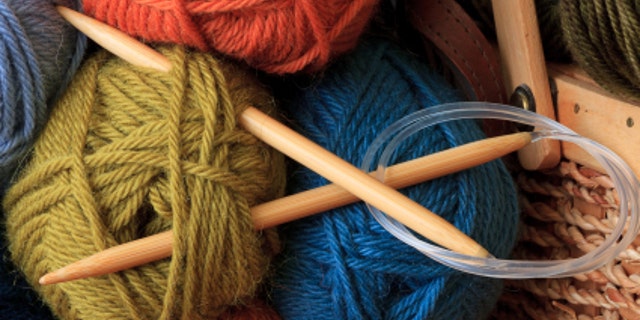 Just about anyone can learn how to knit, including men. Knitting is a life-long hobby that keeps your hands busy, possibly distracting you from eating and smoking. It also provides you with a sense of accomplishment and a final product that you can use yourself or give to someone you love.
Learning how to knit can be tricky. It requires ample patience. Having a family member or friend teach you how to knit is a great bonding experience. It's also the way that knitting was passed down for generations. Here are some tips for the beginning knitter:
Gather your materials
Decide on your first project and find the appropriate yarn. Cheap yarns may be uncomfortable to handle, but you don't want to use expensive yarn for your first knitting attempt. Knitting Help suggests using smooth wool yard. Check the labels of the skeins (length of yarn wound in a loose coil) of yarn for the recommended needle size. Be mindful not to pair slick needles with slick yarn.
Learn the basic skills
Decide if you are going to learn the English or Continental style of knitting. Both methods lead to beautiful work. The English method, also known as the throw or American method, requires that you hold the yarn in your right hand. With the Continental or German method, you hold the yard in your left hand. Don't be afraid to try them both if you are teaching yourself. Positioning your knitting needles and the yard may feel awkward at first, but you will become more comfortable with it in time.
Now it is time to learn the four basic stitch patterns: cast on, knit, purl and cast off. Check out the many free instructional videos available on the Internet to see the stitches in motion if you are teaching yourself how to knit.
Become familiar with the lingo
K2tog tbl? EOR? Knitting patterns use many abbreviations that may look like gibberish at first glance. The aforementioned two stand for "knit two stitches together through the back loops" and "end of row," respectively. You may need to translate or spell out the pattern abbreviations in the beginning, but you will get the hang of reading patterns in no time.
In knitting, gauge is the number of stitches per inch. When you are starting out, you may find that the beginning of your scarf is wider than the middle. This is the result of knitting some sections with stronger tension than others. You will learn to maintain a consistent tension so that your project comes out the correct size.

Start small
Relax. Don't get frustrated if your first attempt at a scarf turns out a little rough. No one expects you to whip up a sweater your first time. Ask the person teaching you how to knit if he or she can give you a few short lessons that do not last longer than an hour each.
Once you get going, remember the count the number of stitches in your row. Start off with an easy to remember number. You may not believe it as a beginning knitter, but knitting can be an enjoyable and fulfilling way to relieve stress.