How to prepare your house for emergencies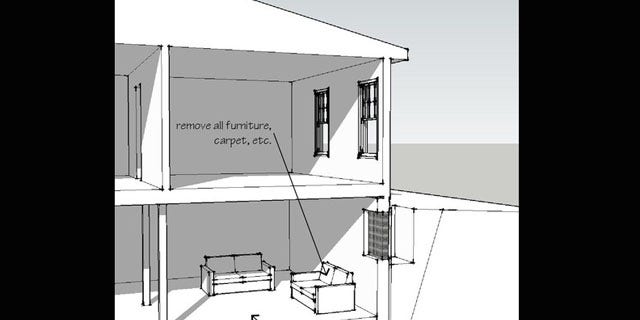 No one wants to think that a disaster, natural or otherwise, will strike at home. But with the wild weather patterns that have popped up this year, now seems like a smart time to make sure your home is ready, just in case.
We may not be able to predict the weather, but we can prevent many home fires, stay calm and cool during emergencies, access necessities during power outages and minimize damage when a true disaster strikes. Commit to checking off the items on this list, and you can feel good knowing you are doing what you can to protect your home and family.
Put key safety tasks on the calendar now. Take the guesswork out of staying prepared by scheduling essential tasks ahead of time, just as you would for dentist and doctor appointments.
Here are the basics:
Clean gutters after the last leaves fall and again in the spring.
Have chimney swept once a year.
Test smoke alarm batteries monthly.
Replace smoke alarm batteries once a year.
Know the dangers in your area. If you live in a fire-prone area, it is especially important to plant fire-resistant trees and plants and keep areas near your home clear. If you live in a flood zone, you may want to elevate your furnace, electric panel and water heater.
Knowing which natural disasters are most likely in your area also helps you to choose the right insurance coverage. See FEMA for more on preparing for disasters, and check the flood hazard maps to determine if you live in a flood zone.
Take steps to prevent home fires. Home fires are all too common, and most are preventable.
Key things to start with:
Place grills and fire pits at least 10 feet from house.
Regularly clean lint from the dryer.
Do not allow smoking in your home.
Inspect and clean woodstove pipes and fireplace chimneys annually.
Do not run electrical cords under rugs.
Have a pro replace old wiring, as well as any light switches that feel hot to the touch or connect to lights that flicker.
Have the right tools, right where you need them. Most home fires start small, and with the proper tools and safety measures in place, you can minimize or avoid damage and injuries.
Ask your fire department to inspect your home for safety issues.
Seek training on proper use of fire extinguishers, and find out which are the best types for your home
Different extinguishers are used on different kinds of fires, so you may need a specialized kitchen fire extinguisher in addition to an all-purpose model.
Install escape ladders in all upstairs bedrooms.
Check to make sure all windows can be opened. Repair stuck screens and scrape painted-shut windows.
Keep dual-sensor smoke alarms on every floor of your home (including the basement) and inside and outside of sleeping areas.
Talk with your kids about emergency plans. Keep your talk brief and to the point, but revisit the topic regularly so it stays fresh in their minds. In case of fire, for instance, the Red Cross advises, "Get out, stay out and call for help." It's short, sweet, and easy to recall even in times of stress.
Be sure kids know how to get out of upstairs rooms safely, and practice your fire escape plan twice a year.
Keep your home inventory and other essentials in a safe spot. If you haven't already done so, conduct a home inventory for your insurance records. Include the inventory, along with digital photos stored on a flash drive and a copy of your insurance plan, in a fire- and waterproof lockbox. You may also want to stash digital backups of other key financial records and family photos in this box.
Build your emergency kit. Just knowing you have all of the essentials gathered in one place can add to your peace of mind.
Top 10 items to have at hand:
Two-week supply of water (1 gallon per person, per day)
Nonperishable food
Weather radio with built-in flashlight
Extra batteries
First aid kit
Multipurpose tool
Basic toiletries kit
Photocopies of personal documents (passports, birth certificates, home deed, etc.)
Cell phone with charger
Extra cash
Depending on your household, you may also want to include baby and pet supplies, medications and games for kids. For a comprehensive list of items for stocking your kit, visit the Red Cross.
Store your emergency supplies in a spot that make sense. Now that you have all of those essential items rounded up, fight the urge to stash them in the deepest recesses of your basement. Remember, your emergency kit is supposed to help you when disaster strikes!
A better place might be the garage, mudroom or coat closet. Keep your kit in a container with handles and a lid that snaps shut; that way you can easily grab it and go, should you ever need to evacuate your home.
Related:
Houzz is the leading online platform for home remodeling and design, providing people with everything they need to improve their homes from start to finish - online or from a mobile device. From decorating a room to building a custom home, Houzz connects millions of homeowners, home design enthusiasts and home improvement professionals around the world. Laura Gaskill is a contributor to Houzz.