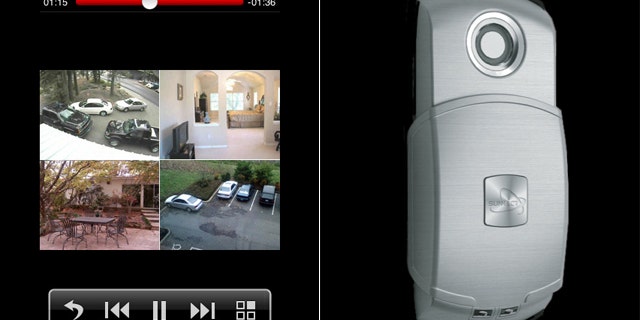 Your home may be your castle, but that doesn't mean you need to guard it with medieval technology. While a traditional burglar alarm is a great place to start, a few additional gadgets and apps can greatly increase your security, as well as your peace of mind.
Keyless Locks
With the simple touch of a button, keyless entry for our cars has long provided a quick way to pop the locks. Morning Industry's line of keyless remote locks adds that same sort of convenience to your home. Combining a traditional deadbolt lock, a radio frequency remote and a code-enabled touch pad in case you forget your keys, the Morning Industry lock gives you plenty of ways to get into your home, while keeping thieves out.
If you're looking for a digital lock with a little more heft, the Sunnect AP501 weighs in at 6 pounds and boasts a bullet-proof zinc-alloy exterior. However, at $350, it might just end up signaling to criminals that this is a house worth robbing.
Simple Security
For those who rent rather than own, installing a security system can be an expensive way to stay safe in a temporary home. SimpliSafe attempts to solve this problem with a portable, modular security system. Relying on a main base station, sensors and a control pad, the system is easy to set up and can easily be taken with you when you move. And because it is modular, you can buy a few extra sensors to expand the system if you upgrade to bigger digs in the future.
Take Control
To make your home truly safe, you need to do more than just keep potential intruders at bay. Using your iPhone or iPad, Control4 puts access to all aspects of your home in the palm of your hand. Did you shut the garage door? Shut off the oven? Turn off the lights? Whatever the nagging worry, there's an app for that.
Remote Monitoring
If you're looking for a simpler, cheaper way to put your iPhone on guard duty, the Mobiscope Home & Video Surveillance app ($9.99) works with a wide range of webcams and IP cameras, giving you access to four streaming feeds at a time. And there's no reason why you just have to use it for security purposes: Install a camera at the front door, and the next time you hear a knock, you can check to see if it's the delivery guy or someone you'd like to avoid.
Logitech has a line of wireless surveillance cameras both for indoor ($300) and outdoor ($350) use. And since they connect to a computer or mobile device through a wireless router, installation doesn't involve hassling with a bunch of cables.
Finally, if you're already signed up with a home security service, such as Alarm.com, ADT or CPI, you probably already have access to a free app giving you security and control on the go. Check with your security service provider to see what's available to you.
Click here for more from FoxNews.com Home and Garden