Get This Look: Ali Larter Keeps It Clean (and Modern)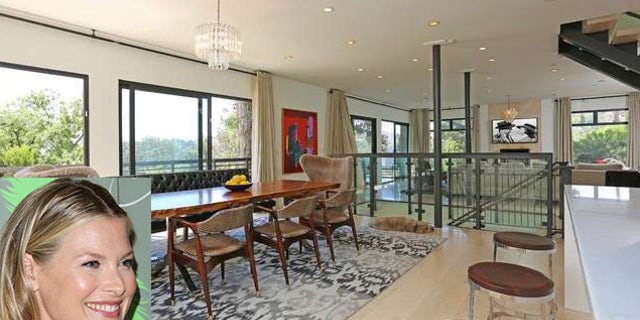 Actress Ali Larter played it tough in the TV series "Heroes," but her home in the Hollywood Hills reveals a relaxed modern sensibility. At $4.85 million, it's not in most people's budget, but you can adopt her clean, contemporary style punctuated with organic accents in your own home. (And if you really want to redo your home, enter our "Get This Look" sweepstakes for a chance to win a $45,000 home makeover by me! Time is running out -- the sweepstakes ends at 11:59 p.m. ET on Friday, Sept. 18.)
White-gloss cabinetry: Larter's kitchen has a clean, modern design that features white high-gloss cabinetry. The horizontal cabinets are a fresh, contemporary way to treat upper cabinetry. But custom cabinets in a high-gloss finish can be very expensive. Instead, check out this horizontal high-gloss cabinet from Ikea that starts at around $250.
Wide-plank flooring: Larter's modern home is still cozy and warm, partly because of the white oak wide-plank floors. While white oak is a traditional material, the wide planks have a contemporary feel that provides a great anchor for her eclectic furniture. Hardwood wide planks often range from $15 to $20 per square foot, but here's a great laminate plank option from Mohawk called " Rustic Legacy" that's under $3 per square foot.
Organic contrast: This white-on-white bathroom might be too ultramodern for some buyers, but Larter's softened the look with the organic contrast of root wood bowls. Each piece is unique, and it doesn't have to cost a fortune. Here are some fun ones from Viva Terra that start at around $50.
Banquette dining: The built-in banquette has made a return in popularity in recent years for dining room decor, as the style is both cozy and elegant. The one in Larter's dining room is a custom piece, which can cost thousands of dollars. Here's the "Halifax" banquette, available on Wayfair.com for under $500.
Eclectic accents: To keep bathrooms from seeming cold in their modern design, Larter has accented hers with eclectic mirrors and accessories. This gear mirror has a salvaged industrial feel, which is a quirky surprise above the vanity. A true vintage piece can run over $1,000, but here's a vintage-style pair of mirrors from Urban Trends for about $170.