Five laws for DIY interior design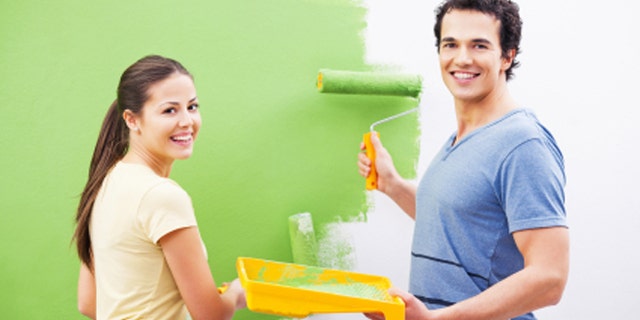 On my bookshelf is a 1956 DIY guide from Better Homes and Gardens. Its title is as practical and straightforward as the homes from that era: Decorating Book. The interiors in the photos are fascinating and nostalgic, and there are plenty of quaint touches, like an illustration of a husband and wife brandishing their favorite "accessories": hers are a framed picture, a lamp and a potted plant; his a trophy, a ship in a bottle and a rifle. Of course, this was long before there were terms like man cave. But the fact is, this book has much of the same basic advice designers are touting today, because these are the universal rules that help regular people create the interiors they really want. (And funnily enough, it seems like everyone wants to live in a 1956-excuse me, Midcentury-interior again, but perhaps without the firearms.)
1. Start with Use
If you hired a professional designer to transform your living room, they wouldn't start by asking what colors you like or what style you have in mind. They would ask you, "What do you do in this room?" Successful interior design revolves around use. A finished interior can look completely fabulous, but if it doesn't suit the way you live in the space, it just won't work. It's also important to be realistic. If you have young kids, for example, don't plan on things staying where they belong or games being played in their designated areas. (But why am I telling you this? You have young kids. You know what it's like.) The point is, don't try to make the lifestyle fit the design scheme; do it the other way around.
2. Characterize the Space
This is along the lines of the popular advice, "choose a theme," but the real goal is to define your tastes and vision much more clearly than saying you'd like a French Country living room or an Asian-inspired bedroom. It helps to actually put your theme in writing. Define how should the room feel-is it a traditional masculine social space with all but the whiff of pipe smoke or is it light, smart and airy, like a Scandinavian family room? All of the stuff you put into the space (and how you arrange it) will either support or detract from the theme, so establishing a keen sense of your direction early in the process is critical to making the best style and purchasing decisions.
For many DIY designers, it can help to focus on an object that symbolizes the theme or look you're after. This could be a favorite furnishing, a family heirloom or a piece you lucked into at thrift store that just does something for you. Or, if you're handy, create something that fits. My wife and I designed and built a sofa table that nicely characterizes our design scheme (and at the right price, of course). It's clean, modern and practical, and it has reproduction "hairpin" legs that were popular at the time when our house was built.
3. Focus on Furniture
I know from personal experience how much it hurts to hear this when you're on a tight budget, but it must be said: Furnishings are the building blocks of a room. Yes, a focal point is important. So are colors and accessories, but those are things you look at; furniture is what you live on. Nothing can make or break a design plan more effectively than furniture. This is because furniture is so many things in one: look, function, texture, style and form. It's both the traffic cop and host; it directs movement through the space and invites people to sit, lie down, cozy up or maintain a comfortable distance. So, before you spend money on any significant elements for an interior, make sure you have the right furniture pieces (or at least the most crucial ones) in place. You don't have to spend a lot of money, either. My favorite piece in our living room (not counting the sofa table) is a $70 Poang chair from IKEA.
Apartment Therapy recently published a tour of a modern rustic home in Los Angeles's Mar Vista enclave. Although it features the work of an amazing Los Angeles carpenter, it's the furniture in the sparse but warm-feeling design scheme that really make it work.
4. Coordinate, at Any Level
Some folks like things matchy-matchy, while others want anything but an overly "perfect" look. But even if you're in the latter camp, it's important to have at least some threads of continuity in a design scheme. This can be as subtle as throw pillows that match or complement colors in a prominent piece of wall art. Most guests might not even notice the connection, but it is there, and it helps legitimize the aesthetic scheme. Consider this before you select just any can of paint and start painting.
5. Get Help
Two of the biggest challenges of doing your own design work are: 1) knowing what's out there and 2) knowing what you like. It's important to remember that interior designers, as with all creative professionals, weren't just born with the ability to do what they do. They've had years of practice and training, exposure to countless ideas and, perhaps most importantly, lots of feedback from others. When you're designing your own interiors, getting some of that experience is up to you. There's a ton of free and inexpensive help out there for DIY designers: online resources for finding ideas and products, choosing colors and textures and asking experts for advice, plus catalogs, magazines and books tailored for every style (and budget) imaginable. Keep in mind that you can also hire a local designer for help with specific aspects of your project. For example, a one-hour color consultation can yield a complete color plan for one or several rooms for the price of a few gallons of good paint.
Philip Schmidt writes for Networx. Get home & garden ideas like this on Networx.