Five high-tech home security gadgets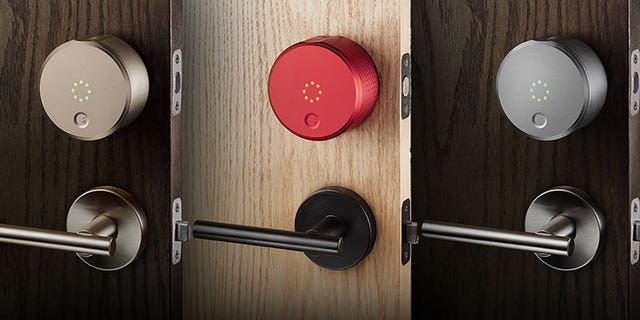 Smart home gadgets make life much more convenient, but increasingly, they can also make your home much more secure. If you're in the market for a security upgrade around the home, check out some of these great gadgets.
At the heart of any good security system, you need to have a clear, high-definition video camera. The Nest Cam allows you to stream 1080p video right to your phone, so you can check in with what's going on at home at any time. If you've already invested in gadgets like the Nest Protect and Thermostat, the Cam will integrate with those smart home gadgets, notifying the thermostat when you're away, or pushing videos updates to you if your Protect smoke alarm goes off.
Nest Aware, the company's monthly subscription service, stores your video stream in the cloud, giving you up to 30 days of video backup, so you can see who took that bike from your garage or stole a package from your front step. Nest Aware isn't just for catching criminals though. The company touts the service as a handy way to capture and share precious memories, like a child's first steps or funny videos of your pets at play. However, running between $10 and $30 a month, the service isn't cheap, especially considering that some competing cameras allow you to save videos to a disk with no monthly fees.
Like other smart security cameras, the Netatmo Welcome will stream high definition video straight to your phone or tablet. But what sets the Welcome apart from its peers is its ability to recognize familiar faces. After a few days of training, the camera will be able to tell who is in the frame. If a stranger tries to enter the house, the camera can quickly alert you. In addition to spotting potential crooks, the camera is also used to send personalized updates. For instance, the camera can let you know when your kids get home from school. The Netatmo Welcome also allows you to use a SD card to capture video, sparing you the cost of monthly fees.
More than just a smart camera, Canary is your all-in-one security system. The device features motion sensors and a wide-angle camera that can scan for unusual activity. If it senses something is amiss, the device will send you a live video feed and give you the option to immediately sound a siren, contact a neighbor or call the police. In addition to home security features, the device also features humidity, temperature and air quality sensors that tell you what conditions are like inside your home.
Most people don't give much thought to the humble doorbell. But it can be your first line of defense when it comes to home security. SkyBell is a digital doorbell that links to your smart phone, allowing you to see, hear and talk to anyone who comes to the door. And a smart doorbell isn't just about security, it's also about dealing with life's inconveniences. If a salesman comes knocking while you're making dinner, you can check your phone and give him the cold shoulder. Or maybe you're out of the house when the delivery guy comes knocking. You can use the two-way intercom to let him know to drop the packages around back, sparing you a trip to the depot to pick them up.
The August Smart Lock allows you to ditch the keys and use your phone to gain entry to your home. Using Bluetooth to communicate with your phone, the Smart Lock can sense when you get near and automatically open the door. After you've entered the home, it can lock the door behind you. Using the lock's app, you can see if you've forgotten to lock the door. If you have friends staying over or occasionally rent your place out on Airbnb or VRBO, the smart lock gives you a convenient way to grant access to your guests. The device isn't purely a smart lock. It attaches to your existing deadbolt, which means you can still use your keys to lock up — a useful alternative for when your phone battery dies.