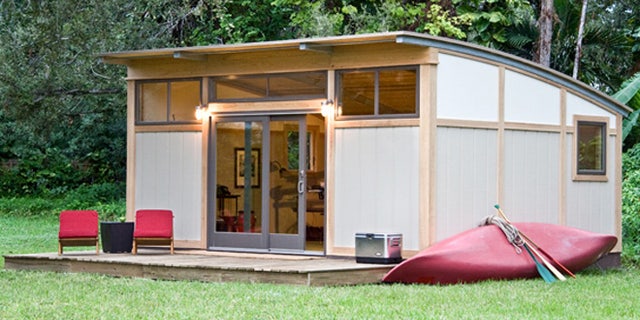 Summer is here and for some people that means long, relaxing weekends at the cabin. But if you can't afford a lake house or summer home, here are some affordable summer retreats that ensure you'll have a place to unwind this year.
Tiny Cabins
A summer retreat doesn't have to be a sprawling multi-bedroom lake house. If you want an affordable place to spend your summer days, think smaller. Companies like Kanga Room Systems and Cabin Fever offer tiny, pre-fabricated cabins at an affordable price. Starting under $10,000 for a cabin, Kanga Room's cabins range from a minuscule 14 feet by 14 feet, up to a more spacious 16 feet by 40 feet. But just because they are small doesn't mean that you have to skimp on the amenities. Options and upgrades on the cabins include bamboo hardwood flooring, a front porch, and indoor plumbing. Cabin Fever's cottages start around $17,500 and feature similar options. While these mini-cottages might be tight, they can at least get you to the lake, allowing you to spend your summers on the water or at the beach.
Tree Tent
Camping doesn't have to mean sleeping on the ground. If you want to elevate your camping experience, check out Tensile's Stingray. Combining the protection of a tent with the free-swinging freedom of a hammock, these tree-top dwellings are the perfect way to give a camping trip a new sense of adventure. For a larger and more permanent tree-top adventure, try the Luminaire Tree Tent. More like a cross between a tent and tree-top cabin, these spherical, semi-permanent structures can be installed with suspension wires several feet off the ground and sport a number of deluxe options, like a wood stove, water tank and a solar power station — perfect for those who want to camp, but not have to rough it.
Cabin Rental
Cabin rentals aren't always easy to find, forcing you to rely on friends or family or recommendations, or turning to strangers on Craigslist. Fortunately there are a number of new sites and apps out there looking to help vacationers land the perfect rental. Sites like Dwellable, VRBO and HomeAway allow you to quickly sort through hundreds of rentals based on location, while filtering your search by price, number of rooms, access to amenities and proximity to the beach. And by acting as an intermediary, these sites look to protect vacationers from unscrupulous landlords, removing cottage and cabin listings that don't meet the sites' standards.
House Boat Rental
Why rent a house by the lake when you can rent a house right on the lake? A house boat rental is the perfect way to maximize your weekend at the lake, allowing you to fish, swim and sunbathe all from deck of your floating home away from home. For rentals and prices, check out sites like Houseboating.org or Foreverhouseboats.com, which offer rentals at various locations across the country, or search for a houseboat rental closer to home.
Ranger Cabins
For a truly remote getaway, the U.S. National Forest Service has a number of ranger cabins available to rent. These rustic rentals were once used by forest rangers but are now open to the public, giving you private access to some of the most pristine wilderness the country has to offer.
To land yourself a cabin, select the National Forest Service region you want to vacation in and search for "cabin rental." Or you can head over to Recreation.gov, the government's online booking service for the National Park Service and National Forests, and search for openings near you.