Do This One Thing to Prepare for a Natural Disaster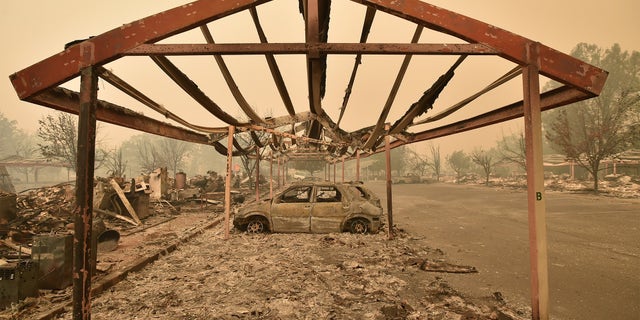 NEWYou can now listen to Fox News articles!
No matter how you slice it, we live in a dangerous world. Most Americans live with the ongoing risk of disaster: hurricanes on the coasts, tornadoes in the plains, earthquakes on the West Coast, and wildfires out West, like the ones currently raging in Northern California that have destroyed hundreds of homes and claimed at least one life so far.
And yet, we have to settle down and live our lives. We choose our homes based on factors such as opportunity and affordability; we comfort ourselves with the notion that no place is entirely safe. So why run through endless "what if" scenarios of natural disasters striking your home? You can't prevent Armageddon, so why dwell on it?
But here's the news: You can be prepared. If a wildfire, hurricane, or other disaster wrecks your home, you could lose everything you own. Certain things -- heirloom jewelry, family photos -- can't be replaced. But others (wide-screen TV, furniture) can, with reimbursement from your insurance company. And in order to get that reimbursement, it's essential to have detailed information about your possessions -- and many people just don't.
So the one thing you can do to prepare for a natural disaster is to create a home inventory. While most homeowners hold insurance policies, many neglect to complete their home inventories -- a recommended but rarely required step that eases the postdisaster recovery.
"To get your life back together, you need to have your belongings," says Laurie Marinelli, a personal insurance manager at Murphy Insurance Agency in Hudson, MA. "Having a home inventory cuts the time in half in terms of getting the claim to go through."
Compared to the old days (and by that, we mean -- gulp -- pre-Internet), creating a home inventory takes hardly any time at all. Before, insurance companies recommended maintaining detailed, paper-based records. But why risk it all getting lost, destroyed in a fire, or washed away in a flood? Here's how to create your own digital inventory:
Use an app on your phone to log everything. Programs such as MyStuff2 and DreamVault will walk you through each of the steps. They provide an easy, cloud-stored way to assure your home inventory is always up to date.
Take detailed photos. Use your camera phone to take pictures of each room -- down to the drawers and closets. While this may not replace a detailed log, it does make it easier to quickly review your belongings in an emergency.
Go room by room. Overwhelmed? Going through each room one by one -- maybe over the span of a week or two -- can be easier to handle. Plus, it will reduce the possibility of getting bored or tired and skipping over something critical, like your jewelry box.
Maintain a spreadsheet. Don't want to store your inventory in the cloud? Log everything on a Microsoft Excel spreadsheet, organized by room, purpose, or function. Make sure to include the value of each item, as well as its age and condition.
Know what to log. While you'll want to chronicle everything, you don't need to get into the minutiae of that weird knickknacks basket in the kitchen. You can lump small items into categories (e.g., "dishes" or "spatulas"), but consider separating individual items of clothing. "People tend to forget what's in their closets and drawers," Marinelli says. "There's a lot of value there, and you want to make sure you're getting reimbursed for what you actually own."
Keep a copy off-site. Marinelli recommends storing your inventory, whether it's a physical copy of the spreadsheet or a flash drive with the Excel file, in either a bank safe-deposit box or the cloud. You can also email a copy to yourself with an easily remembered subject line (suggestion: "Open this if the world is ending"). "If you have a fire and your list is in your house and it gets destroyed, it's all for nothing," she says.
Update regularly. Logging everything is just half the battle: You'll need to update your list at least yearly, or whenever you make a large purchase. Marinelli recommends keeping receipts to make the reimbursement process even easier. If you have trouble remembering to update your list every time you buy a big-ticket item, try scheduling an annual review after the holidays.